Reality Check: Why is Alexis Sanchez like an orange?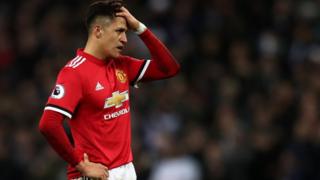 At the end of the January football transfer window, the Reality Check team has been examining whether footballers are worth their weight in gold, and whether Alexis Sanchez can reasonably be compared to an orange.
The transfer window runs in January and through the summer and is the period when football teams are allowed to buy players.
Amid the talk in the past month of merry-go-rounds, deadlocks and windows slamming shut, there have been some striking utterances.
After signing Alexis Sanchez last week, Manchester United manager Jose Mourinho mocked local rivals Manchester City, who had also been interested in buying the striker.
"When you see a tree with amazing oranges at the top of the tree and then you cannot get there, you say, 'oh, I got the lower ones because I don't like the ones at the top'. You like the ones at the top. They are so nice, so orange, so round, so full of juice but you cannot get there, so you say, 'I don't want to go there'."
Citrus fruit experts are pretty happy with this analogy.
"There will be more sun at the top of the canopy of leaves so we expect ripe fruit at the top of the tree to be sweeter than ripe fruit lower down," says David Hanke, who specialises in plant sciences at the University of Cambridge.
Horticultural consultant Darren Sheriff, who calls himself The Citrus Guy, agrees but adds that if you gave somebody two oranges from two completely different places on the tree, it's doubtful they could taste a difference.
Also, there's no close connection between the colour of the rind outside and the ripeness of the fruit inside.
"The skin turns orange before the fruit is fully ripe," says Mr Hanke, "and the skin of ripe fruit may regreen in warm weather, enclosing ripe fruit flesh."
Of course, Jose Mourinho was really making a point about perception and human nature.
Even if the higher oranges look and taste nearly identical, they seem more desirable because they're out of reach.
Weight in gold
There has also been some debate about which footballers are worth their weight in gold.
Earlier this month Bayer Leverkusen player Julian Brandt was quoted by World Soccer Magazine describing his team-mate Leon Bailey in admiring terms: "He's often our tin-opener, the guy who opens the scoring or comes up with the winner. In this sort of form, he's worth his weight in gold."
Leaving aside the question of how the tin-opener metaphor works (it may have been lost in translation) we have been calculating what Bailey's weight in gold would be.
Leon Bailey went to Bayer Leverkusen for 20m euros (£17.5m) last year.
He weighs 75kg and gold costs about £30 a gram, so his weight in gold would be about £2.3m.
So telling a top-flight footballer he's worth his weight in gold is, these days, a grave insult.
To find what he could be worth his weight in we asked gemstone specialist Jason Williams, who told us you could get a mid-quality aquamarine for about £50 a carat (it's five carats to the gram), so you could buy 75kg of them for just under £19m.
So if you were trying to flatter him you could describe him as being worth his weight in mid-quality aquamarines.
Bigger fish to fry
There was another bizarre transfer window metaphor from Swansea boss Carlos Carvalhal.
"I will do my best to try to bring in the best players," he said. "That is why I am starting to look to the lobsters and to the sea bass, if not we must try sardines. Sometimes sardines can win games."
The Portuguese manager had his fish prices spot on.
Swansea fishmonger Coakley Green was selling lobster this week for £26 per kilogram. Sea bass was £6.98 a kilogram, and a kilogram of sardines cost £4.95.
Presumably, the manager considers Ghanaian international Andre Ayew, the club's record signing at £18m, to be a good catch.
In case you're interested, he weighs 72kg, so his weight in Swansea lobsters would cost a snip at £1,872.