Myanmar Rohingya crisis: UK diphtheria medics return home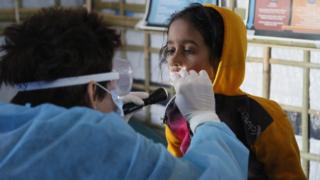 An emergency team of British medical staff is returning home after helping to bring an outbreak of diphtheria at Rohingya Muslim refugee camps across Bangladesh under control.
The team of 40 NHS doctors, nurses and paramedics treated 500 people at the Cox's Bazar camps after deployment over Christmas and New Year.
Bangladeshi health professionals have now taken over from them.
The government said the medics "embody everything the UK stands for".
Diphtheria, which is preventable through vaccination, surfaced in the camps in late 2017. The outbreak has so far claimed 37 lives amid 5,000 suspected cases.
Cox's Bazar is home to more than 655,000 Rohingya refugees who have fled violence in bordering Myanmar, also known as Burma.
The UK's emergency medical team, which was stationed at three treatment centres, administered precautionary antibiotics and live-saving diphtheria anti-toxins to people in the camps.
'Countless lives saved'
The six-week deployment, made at the request of the World Health Organization, was the first of its kind since the team was set up in 2016.
The staff joined medical workers from Médecins Sans Frontières (MSF) and the International Organization for Migration (IOM).
Diphtheria is now very rare in the UK, but affects the nose and throat and can lead to difficulty breathing, heart failure and paralysis.
The Department for International Development (DfID) said the first round of the vaccination campaign was complete and had ensured more than 350,000 children aged between six weeks and 15 years were protected.
About £2m of the £3.4m cost of the vaccination programme had come from DfID's Bangladesh humanitarian aid budget, it added.
International Development Secretary Penny Mordaunt has praised the "vital work" of the British team.
"I have nothing but admiration and thanks for the UK medics who travelled to Cox's Bazar over the New Year to help victims of diphtheria, who without UK support would have died," she said.
"Our team has now handed their knowledge over to medics in Bangladesh so they can carry on the fight against diphtheria.
"Diseases have no respect for borders and this vital work is ultimately making the world a safer place," she said.