Manchester hospitals cancelled operations due to water leak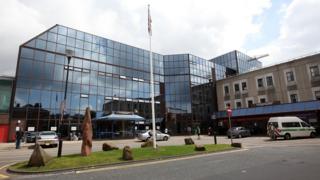 Operations were cancelled at four hospitals in Manchester due to a mains leak affecting the water supply.
Hospitals affected by Sunday's leak were the Royal Infirmary, the Royal Eye Hospital, Saint Mary's Hospital and Royal Manchester Children's Hospital.
Manchester University NHS Foundation Trust said non-urgent operations were cancelled this morning but resumed this afternoon as the supply was restored.
An affected patient's grandson took 200 bottles of water to help ill patients.
The trust said cancelled operations will be rescheduled as soon as possible.
One patient tweeted about the effects on patients, calling it a "shocking situation".
Prof Cheryl Lenney, director of infection prevention and control for the trust, said: "Our sterile services require a significant amount of water to sterilise instruments, so it's really important that we knew that the water supply to that department was functioning properly."
She said on Sunday water tanks "had reached critical levels" and the hospital implemented water-saving actions including using hand washing gel and wipes and asking patients not to flush the toilet for a short time.
Writing on Facebook, Anne Marie O'Toole said: "I was at children's a & e this evening, the staff were professional, courteous, apologetic and very kind.
"They were extremely busy and stretched during this major incident, but standards never slipped, heartfelt thank you to all I came in contact with."
Marcus McCluskey, 23, paid for and took bottles of water to the Royal Infirmary, Manchester Royal Eye Hospital and Royal Manchester Children's Hospital on Sunday night.
He said: "My grandmother has been treated at Manchester Royal since July 2017 and a few hundred bottles of water is nothing to ensure that the hard working staff and most seriously ill patients have access to water."
The emergency medical dispatcher for North West Ambulance Service bought the water from supermarkets before spending three hours delivering the bottles.
United Utilities said it worked urgently through the night to repair a leak on Oxford Road, before a further "smaller scale" leak found on Monday morning at Moss Lane East was also fixed.
A spokesman added that none of the hospitals were without water during the repairs.