PepsiCo suggestion of 'lady-friendly' crisps mocked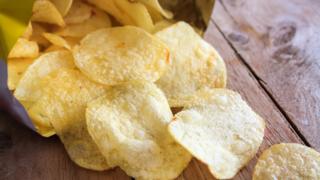 The CEO of PepsiCo has said the company is developing a range of crisps specifically for women.
In an interview with Freakonomics Radio, Indra Nooyi stated the company was "getting ready to launch" a line of crisps to serve female snacking habits.
Ms Nooyi highlighted the importance of fitting the snack into a handbag and reducing how loudly the crisps crunch when eaten.
Many women on social media have mocked the idea of 'lady-friendly' crisps.
Detailing the snacking behaviour of the different sexes, Ms Nooyi claimed that women "don't lick their fingers" and "don't like to pour the little broken pieces and the flavour into their mouth".
Some women shared their snacking habits, including food writer Jack Monroe as she explained how she carries her snacks.
This is not the first time a company has come under fire for selling feminine versions of products.
You might also like:
Campaigners have protested against the so-called 'pink tax', where retailers charge women more than men for similar products.
One social media user suggested women write to PepsiCo using a packet of 'for her' pens.
The BBC has contacted PepsiCo for further comment.
By George Pierpoint, UGC and Social News