BBC Weather redesign - viewers hail 'Scotland's return'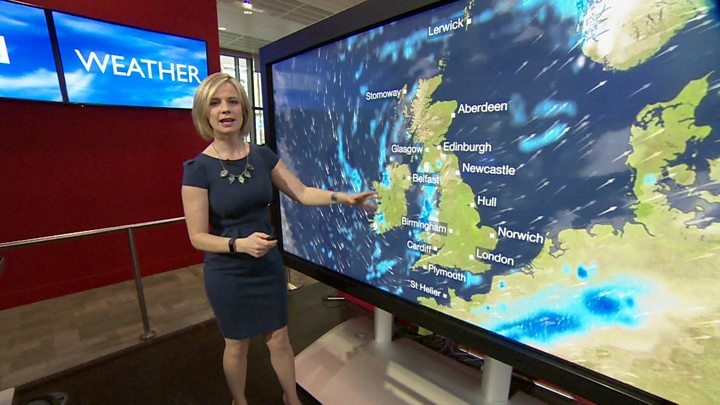 BBC viewers have hailed the "return of Scotland" after the redesigned weather forecasting service was unveiled.
Flat maps are back, replacing the tilted version - which some had felt made the north of the UK look "squeezed".
"Scotland doesn't look tiny any more," wrote one Twitter user. "Welcome back!"
The new service, provided by MeteoGroup, also features 14-day forecasts and thousands of new locations across TV, mobile and online.
Sarah Keith-Lucas presented the first new forecast on BBC One and said it was designed to have a different "look and feel" to the old style.
Much of the reaction online focused on Scotland:
The BBC has switched its forecast provider from the Met Office to MeteoGroup and has introduced a number of new features.
The land has gone green - previously it had a brownish tinge - and the weather maps are described as high-resolution and more realistic, with additional details including roads and urban areas.
A new "feels like" temperature as well as a "chance of rain" percentage can now be displayed on mobile and online, to help users more accurately prepare for outdoor conditions.
However, while the latest technology has improved forecasting for many, others still prefer the lo-fi days of magnetic icons.
The new forecasts offer improved accessibility for users with colour-blindness and feature predictions about where best to see the aurora borealis, or Northern Lights.
It is also possible to customise both TV and online forecasts, zooming in on particular areas to provide a more detailed forecast.
But despite the huge increase in the number of searchable locations online, some viewers were annoyed their home towns and cities were not shown on the main TV forecast map.
In response to the reaction on social media, a BBC Weather spokesman said: "We are pleased that viewers like the new design and with the overwhelming positive response we've received. "
You might also like:
BBC head of weather, Liz Howell, said: "I am delighted to be able to bring [our audience] a refreshed look, new data and additional functionality."
The BBC will still work with the Met Office for severe weather warnings and continue to broadcast key messages from them.
It will also work with the UK's flood response agencies - the Department of Infrastructure in Northern Ireland, Natural Resources Wales, the Scottish Environment Protection Agency and the Environment Agency in England - to improve warnings.
BBC Weather through time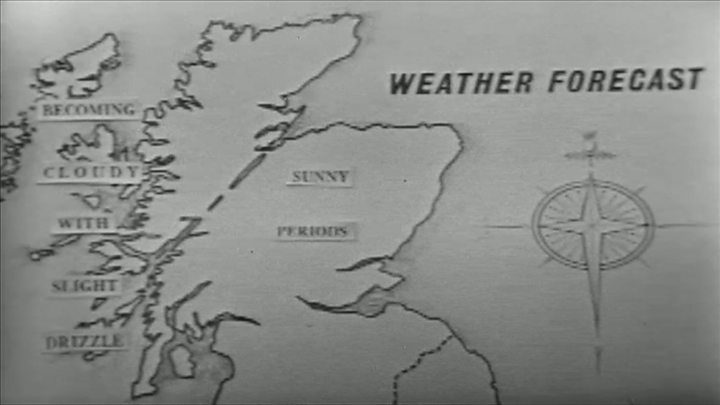 Weather forecasts have formed part of the BBC's output for almost a century - the first radio weather bulletin was broadcast on 14 November 1922 while daily bulletins began on 26 March 1923.
The world's first televised weather chart was transmitted on 11 November 1936, but on-screen presenters were not added to TV packages until January 1954. The first female presenter was Barbara Edwards, who appeared on UK screens between 1974 and 1978.
The BBC also produced a TV programme called The Weather Show, which is now defunct, while online forecasts and the BBC Weather app have been introduced in recent years.