Barry Bennell trial: Ex-coach an 'industrial scale child molester'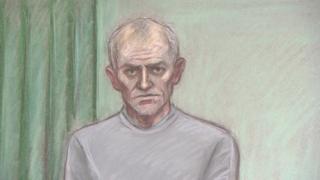 Barry Bennell was a "child molester on an industrial scale", a court has heard during the closing speeches of the former football coach's trial.
Prosecutor Nicholas Johnson QC told Liverpool Crown Court Mr Bennell had "exploited" young footballers who dreamed of becoming professionals.
Mr Bennell, 64, denies sexually abusing 11 boys between 1979 and 1990.
The jury was directed to give not guilty verdicts in relation to three of the 48 offences.
Judge Clement Goldstone QC said there was not evidence in relation to three counts of indecent assault.
Mr Johnson told the court Mr Bennell had described his own house as a "bit of a kids paradise", with arcade machines, exotic pets and a pool table.
He said: "We suggest Mr Bennell is a child molester on an industrial scale and that's why he went to these lengths to get so many lads round to his house."
Mr Johnson told the jury Mr Bennell had groomed the parents of the complainants so he could carry on the abuse.
He added that Mr Bennell had even married the sister of Andy Woodward - who he has previously admitted abusing.
He said: "Just imagine. What does that tell you about his attitude to other people and their expendability to him?"
The court heard last week that Mr Bennell would not offer any evidence in his defence and his barrister did not call any evidence or witnesses on his behalf.
Following closing speeches by the prosecution and defence, the judge will sum up the case and then the jury will retire to consider its verdict.