Armed forces paralysis due to Brexit, Rusi warns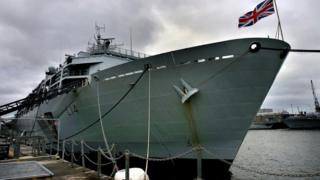 A government preoccupation with Brexit has led to "policy paralysis" over the armed forces, a think tank is warning.
The Royal United Services Institute said delays over implementing planned military reductions, including the axing of some warships, aircraft and regiments, had created uncertainty.
Rusi said the UK was risking its reputation as an international partner.
The Ministry of Defence says its review, to be concluded by the summer, will strengthen the armed forces.
'Serious player'
Rusi's warning comes as the Ministry of Defence faces a budget shortfall of up to £20bn over the next 10 years.
A defence review was due to be published early this year which could have led to significant cuts in the armed forces.
BBC Defence Correspondent Jonathan Beale said the defence secretary, Gavin Williamson, has managed to buy the MoD more time as he tries to persuade the Treasury to give his department more money.
But Rusi's report says any further delay in making those decisions risks damaging Britain's standing with key allies.
It argues that by extending the defence review and with the media focus on possible cuts to "totemic" units like the Marines there is now a greater danger to the UK's "credibility as a serious security actor".
The think-tank says the government has a "positive story to tell" with defence spending due to be 5% higher in real terms in 2020-21 compared to 2015-16.
But Rusi said the MoD promised more than it could realistically afford and this year's review is having to address this.
It added: "The government is increasingly perceived to be unable to make difficult decisions, distracted by Brexit and unable to play an international role that is commensurate with the resources it devotes to this purpose.
"The longer this policy paralysis continues, the greater the risk to the UK's reputation as a reliable ally, and the stronger the (unfair) perception that it is no longer capable of being a serious security player.
"With talks on the EU's future relationship with the UK approaching a critical moment, this is not a helpful message."