E-cigarette 'found in Tesco chicken Kiev'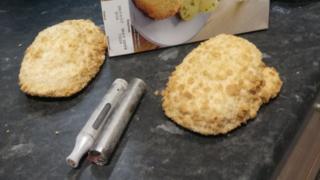 Tesco has given £60 in vouchers and some chocolate to a Hampshire family who say they found an e-cigarette in a box of chicken Kievs.
"We didn't know what it was at first as we don't smoke and have never used one," the family told BBC News.
In a letter, Tesco told them: "We cannot accept liability for the e-cigarette you found in the Kievs."
"It's unlikely the e-cigarette was sold within the packaging," a Tesco spokesperson said.
The parents say they were cooking dinner for their children when they noticed the e-cigarette in two pieces in the bottom of the box.
"We and everyone else have been horrified by this," they told BBC News.
"We have kept quiet for a month about it but are now unhappy with the outcome as we feel something somewhere has been overlooked in the factory during the packing process as the box was sealed when we bought it."
You might also like:
A Tesco spokesperson said, "We take great care when preparing our products and have robust quality processes in place during preparation and packaging, so we were very surprised to hear of this unusual incident.
"Having investigated fully with our supplier, we have concluded that it's unlikely the e-cigarette was sold within the packaging, and provided a gesture of goodwill for the inconvenience of the issue."
The family, from Havant, initially complained to their local store, where they spend "thousands" of pounds, which they say then gave them a £10 voucher and some chocolate for their children.
They then wrote to and called the Tesco customer support helpline, receiving several written replies, including: "I do hope this won't put you off shopping with us again," and finally a £50 voucher.
They told BBC News: "The report from the factory isn't verifiable from our point of view nor any regular maintenance of the metal detectors, as no actual documentation of tests have been presented to us.
"All we are taking is their word for it.
"Also, it doesn't state that any employees had been personally questioned over any possible tampering in the packing process.
"An environmental health officer is due to call us back sometime this week.
"Many people we've spoken to have had the impression that perhaps a disgruntled employer at the factory had planted it there, as it's not the kind of object to coincidentally fall into a box."
By Victoria Park, UGC and Social News