What happens in a working-class town when work is taken away?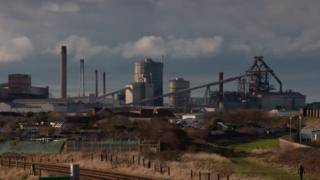 In some of the poorest parts of the UK the number of people with a full-time job has fallen, research for the Victoria Derbyshire programme has found. What happens in a working-class town when the main source of work is taken away?
"We used to make the finest steel in the world," says ex-steel worker and amateur boxer Frankie Wales. "Now, we make lattes and lovely sandwiches."
For 170 years, men at Redcar's steelworks - which made the Sydney Harbour bridge - could expect a job for life.
When it closed in 2015, almost 3,000 people lost their jobs.
"You've got a group of people now who are so marginalised, which are the over-50, predominantly white, working-class man who'll never ever work again," says Frankie.
"They used to be something. It's like the heart has been ripped out of them."
Talk to people around the Teesside coastal town and you hear the same concerns - frustration at a lack of investment or action from those in Westminster and positions of power, and an acceptance that those well-paid steel jobs are never coming back.
"We went from being one of the highest wage economies in the Tees Valley to one of the lowest wage economies," says Sue Jeffrey, the Labour leader of Redcar and Cleveland Council.
Pressing concern
This is part of the country that hasn't benefited from record levels of employment in recent years - what the previous prime minister, David Cameron, described as a "jobs miracle".
According to the Resolution Foundation, an independent think tank, while there has been an explosion in the number of jobs in London, the picture is bleak in other bits of the country.
In parts of the north of England, Wales and Scotland, there has actually been a reduction in full-time work, with Redcar seeing an 8% drop in the past decade.
And it's a particular issue for men in the area, among whom there has been a 13% fall in full-time employment.
"The rise of zero-hours contracts and the gig economy has attracted many headlines, but for many people the decline in full-time jobs in parts of Britain's former industrial heartlands is a much more pressing concern," says Stephen Clarke, an economist from the Resolution Foundation.
Frankie now runs a charity, the Redcar Development Trust, which provides a boxing gym for hundreds of youngsters.
It also puts on bingo, entertainment and exercise days for older people, where former steelworkers who would rather be working now volunteer.
One of them, Martin Mcardle, said he had thought the steelworks had still had 15 years of production in it.
"I thought, 'Well that's me, I'll be retiring then, I can see my future there, see my house paid for'… now that's gone. Everything's up in the air for me now," he says.
Mark Houchen, who had to give up work when he was diagnosed with cancer, says: "It's very difficult. I went from £30,000 a year one week to benefits the next."
Mark says he feels "absolutely ignored". "The emotional aspect of things is not taken into consideration," he says.
"Politicians don't live in the real world, they're in a bubble and I don't care who says 'oh yeah, they [the politicians] understand'.
"No they don't. They don't go home on a night and think 'can I put the heating on, have I got enough electricity, have I got enough gas, what are kids going eat?'."
The government, for its part, says that more people are in work than ever before, with rising employment in every region since 2010.
"In the coming months we will be working with regions to develop Local Industrial Strategies that boost the productivity and earning power of every area," a spokesman said.
Protest vote
The loss of steel production and those good well-paid jobs was a key driver in the 66% vote in favour of Brexit in the area.
Terry Frank, a former steelworker in his 50s who has not worked since the steelworks closed, says the bell was tolling for the end of steel, but they thought the government might intervene like in other countries.
"[But] 'Hands are tied, it's EU legislation'. That's all [the explanation] you got," he says.
Council leader Sue Jeffrey says it was a protest vote.
"We want people to be aware that it's not all all right here," she says. "We need investment, we need people, we need jobs, we need the opportunities that we see happening elsewhere."
A £50m taskforce set up in response to the steel plant closure brought together government, unions and local politicians. Its aim was to provide support to those affected.
An official report published last month found that that while many had moved on to new jobs over the past two years, "few have been able to match their former earnings or maintain the same lifestyle".
The legacy report puts it starkly: "For some this has had a devastating impact on their general well-being, health and relationships."
However, the taskforce points to the creation of 1,800 new jobs and funding to support more than 300 new businesses.
And Ms Jeffrey is keen to sound a positive note, insisting that while the move to a low-wage economy is "a real issue", the success of the taskforce shows that people are "putting their money into new businesses, doing things for themselves".
The government said "official figures show there are more people in work than ever before in the UK with employment rising in every region since 2010 - more than half of this growth is outside London and the South East".
Simon Clarke, the Conservative MP for neighbouring Middlesbrough South and East Cleveland, is similarly optimistic, highlighting a regeneration scheme that takes in some of the former steel site, which he says will bring thousands of new jobs.
"There's lots of good stuff being developed", he says. "But there's a generation trapped in the middle - their parents had all the certainty of the boom years of heavy industry and their children will have a brighter future, but if you're stuck in the middle it can be really difficult."
But Frankie Wales is more blunt: "You can have this force and that taskforce, but you're never going to replace what we had."
Watch the BBC's Victoria Derbyshire programme on weekdays between 09:00 and 11:00 on BBC Two and the BBC News channel.