Row as Vue cinema bans 'gay cure' film screening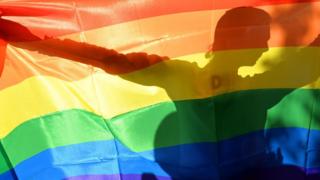 A row has broken out over the screening of a film that advocates therapy to "cure" people from being gay.
Christian group Core Issues Trust had hired a screen at Vue Piccadilly, London, to show the film "Voices of the Silenced" on Thursday.
The documentary tells the stories of 15 people "emerging out of homosexual lifestyles" and aims to "preserve and promote teachings on sexual ethics".
But Vue cancelled the booking after the event drew criticism.
According to Vue, Core Issues Trust - which made the film - first reserved the space at the end of November as a "personal booking".
The film was received by the cinema on 22 January, but when a press release was sent to the company on Tuesday it decided to "review the intentions of the event."
A spokeswoman for the cinema said: "While it is not our intention to censor content, in some instances, where we feel an activity is in direct contradiction to Vue's values, a decision will be made to refrain from allowing a private event to go ahead."
Core Issues Trust is now seeking advice from lawyers, and told the BBC it had 126 people attending the event from across the UK and other countries, including the Netherlands.
'Unwanted feelings'
The group promotes "change-oriented processes" for "relationally and sexually damaged and wounded adults who seek wholeness".
It describes itself on its website as "a spiritual home... for believers and seekers who struggle with issues of sexual brokenness, including homosexuality".
Mike Davidson, who leads Core Issues Trust, told the BBC the film was not about a "gay cure" but "the rights of individuals to access help and support for unwanted homosexual feelings".
'Can't be cured'
Members of the LGBT community say the organisation's teachings are "unethical".
A spokesperson for campaign group Stonewall said: "It's disappointing that Vue Piccadilly would consider screening a documentary about so-called 'conversion therapy'.
"LGBT people aren't ill. Being gay, lesbian, bi or trans is not something that should be 'cured' or changed.
"This unethical and degrading practice has been condemned by all major UK health organisations. It's shocking that Vue Piccadilly initially viewed this as a suitable film to screen."
Pink News launched a petition to get the screening cancelled after one of its former journalists received an invitation.
It said Vue had a "duty to ensure that material such as this is not shown on its screens" and that LGBT staff could "unwittingly be disturbed by the content".
You might also be interested in: