Briton who fought Islamic State group faces terror charge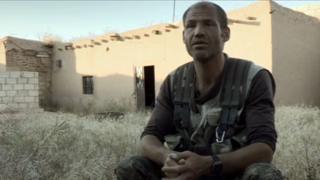 A British man who fought against so-called Islamic State is to be charged with a terror offence.
Ex-soldier Jim Matthews, 43, of London, travelled to Syria and fought with the Kurdish forces, the YPG.
Mr Matthews will appear at Westminster Magistrates Court on 14 February to be charged with one count of attending a place used for terrorist training.
He appeared in a Channel 4 documentary - The Brits battling Isis - about his fight against the jihadist group.
In a statement, the Metropolitan Police said Mr Matthews was alleged to have attended "a place or places in Iraq and Syria where instruction or training was provided for purposes connected to the commission or preparation of terrorism on or before 15 February 2016".
The offence comes under section 8 of the Terrorism Act 2006.
Analysis
By BBC News correspondent Emma Vardy
This is believed to be the first charge of its kind in the UK.
It is estimated that since 2015 dozens of Britons have fought as volunteers with the Kurds in Syria.
The YPG have been important allies of the West in helping to defeat so-called Islamic State.
But terrorism laws in the UK prohibit engaging in violence for a political or ideological cause.
It has so far been unclear how the actions of Britons fighting against Islamic State would be treated by the British courts.
The government has long repeated warnings that fighting with any group could lead to legal consequences.