Killer told police of rape plan before kidnap and murder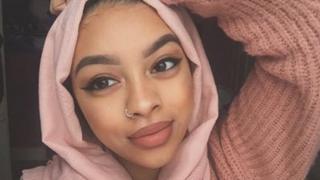 Mujahid Arshid has been sentenced to at least 40 years in prison for kidnap, rape and murder. But four years before committing the crimes, he told police about his violent fantasies.
They were kidnapped on a bright summer morning.
Two terrified young women - tied up, gagged, wrapped in dustsheets and then driven through south London in the back of a pickup truck.
At an empty suburban house both victims were raped, 20-year-old Celine Dookhran was murdered, and the second woman only narrowly survived an attempted murder.
Mujahid Arshid, the killer, had been planning his crimes for weeks, if not much longer.
He had already sexually abused the second woman for about a year from 2008, when she was in her early teens.
She alerted some of her family in 2011 and 2016, but they neither accepted the account or informed police.
"My voice was never really heard," the woman later told the murder investigation.
But between these two disclosures, Arshid had also described his violent sexual fantasies about the woman to an undercover police officer.
The officer had been tasked with visiting a website used by paedophiles and developing online relationships to gather intelligence about child abuse.
In October 2013, he made contact with Arshid, who was using a pseudonym, and exchanged a series of messages.
Arshid invited the officer to drug and rape a teenage girl and then provided a web link to "ratchet tie-down straps" to "keep her down."
He even sent the officer photographs of the same woman he later tried to kill.
'Classic excuse'
Detectives traced the messages to Arshid's home and visited it in January 2014 but they did not make contact until an interview was arranged three months later.
Arshid admitted the messages had come from his address.
He told police he had given the password for his internet router to a labourer named "Zahid" - but he was unable to give any contact details and said the relevant computer had been sold.
He faced no further action and the victim was not contacted.
Following Arshid's conviction, the Crown Prosecution Service (CPS) said that in March 2014 it made a decision in principle to charge him with encouraging or assisting the commission of an offence.
It did so on the understanding that he was the only one with access to his laptop and "therefore it must have been him taking part in the conversation".
The decision was contingent on key evidence being available, meaning Arshid was never actually charged with any offence.
The CPS said a review took place "when we were informed that neither the laptop nor a key witness [Zahid] could be located by the police".
"Without those two crucial pieces of evidence the case no longer met the evidential test and there would have been no realistic prospect of a conviction," it added.
Dal Babu, a former Metropolitan Police chief superintendent, told the BBC the defence offered by Arshid - that someone else was using the computer - was a "classic excuse" used by paedophiles.
He said the police could have taken measures that would have removed Arshid's ability to lie in such a way.
'A watershed moment'
"I would have expected a warrant to have been obtained. I would have expected a search of the house to have been undertaken.
"I would have expected an arrest to have been made."
"Maybe if those actions had been taken the outcome wouldn't have been as horrific as it has been," he added.
Mr Babu said it could be a "watershed moment" because the public will "think how can you have a situation where somebody talks about raping, kidnapping a child and then we wait three months before police officers go round to the address."
Scotland Yard said all aspects of the case would be subject to a review.
"At this time there has been no referral to the Directorate of Professional Standards or the Independent Office of Police Complaints," the force added.
The successful murder investigation found no trace that Zahid ever existed.
Arshid, a 33-year-old builder, who was born in Lancashire but grew up in London, thought of himself as a tech-savvy philanthropist and entrepreneur - but he was really a fantasist.
A proposed biodiesel scheme he devised did not work out and, more recently, he organised a charity that purported to provide water for drought-affected communities in Africa.
The charity did not file any accounts and Arshid appears to have used the role to generate publicity for himself. He also pestered public figures for their attention.
Five days before the kidnapping, he tweeted billionaire inventor Elon Musk to say "I wish to have 10 mins with you" to explain how he could take Musk's work "to the next level".
Large deep freezer
At least three weeks before 19 July last year, Arshid had made a series of disturbing internet searches for, among other things, "what's the best way to dispose of a human body".
Then, two days before the kidnap he installed a large deep freezer in an unoccupied property in Kingston upon Thames.
Obsessed with both women, he had decided that if he could not have them then no one else would either.
Celine Dookhran, his niece, had moved in with Arshid and her aunt following a family disagreement over her selection of boyfriend.
The popular Barclays worker "wanted to make her own choice," according to one friend's evidence at the trial.
At a family meeting the night before the kidnap, Celine and her boyfriend were told to end their relationship, which they agreed to do, although Celine was upset by the demand.
She and the second woman were kidnapped the next day.
Arshid wanted it to appear as if Celine had run away in response to what had happened the day before.
Internet searches
Wearing a balaclava Arshid stuffed socks into the victims' mouths, tied their hands and feet together, and wrapped each in a builder's dustsheet.
The trial judge said he was "satisfied" a second man had taken part in the initial kidnap with Arshid.
Driving at speed and with music blaring, Arshid then took them to the empty house.
"I just looked at [Celine] and said 'don't say anything, don't scream,'" the survivor told police in an interview from her hospital bed that was played in court.
At the large detached property the women were tied to pipes in a downstairs utility room before being taken upstairs in turn to be brutally attacked and raped.
The women tried to persuade Arshid to let them go but, armed with a lock-knife, he took Celine back upstairs and killed her.
After glimpsing Celine's body, the other woman resolved to fight for her life.
"I grabbed him, kneed him down below. He did not flinch at all. I grabbed his face. I grabbed the knife. He started to slit me everywhere. I got my neck slit, my wrists," she told police
Arshid sat on her and then "slit my neck again and bashed my head on the floor."
He said: "Now you've got 10 minutes to live and your body will shut down."
"I genuinely thought I was dying," the woman added.
'Talking rubbish'
Arshid thought the woman had died, but she survived the attack and then managed to talk him out of killing her.
She sat up "covered in blood from head to toe" and began saying "things he wanted to hear - I love you, we can run away together, we can be happy together, we can have a family".
"I was talking so much rubbish to him," she recalled.
He was persuaded they could run away together and drove her to meet his brother, to whom he had been making telephone calls that afternoon.
Before leaving the house, he placed Celine's body in the freezer and sealed it with a lock.
The survivor had been trying to raise the alarm throughout the day using a secreted mobile phone, meaning that police were already looking for her.
But, not knowing where she had been taken, she was unable to provide an accurate location to those she called and the police consequently went to the wrong address.
As Arshid walked her to his truck outside the house, she made herself remember details about the surroundings that she later used to guide police to the property.
When his brother saw the badly injured woman in the back of the vehicle he asked her to get into his own car before taking her to hospital.
Arshid fled and was eventually arrested in the early hours of the following morning in a hotel room in the port of Folkstone, Kent.
It is thought he intended to travel to Europe, before making his way to Pakistan.
Investigators think his original plan was to hide the women's bodies in the freezer and flee abroad before they were found.
At trial, Arshid made a futile effort to convince jurors of his innocence, claiming the women had willingly travelled to the Kingston house, where they both engaged in consensual sex with him, and the surviving woman had then killed Celine in a fit of jealousy.
The jury rejected his lies and found him guilty of murder, kidnap and rape as well as the earlier sexual offences.