Prince William makes surprise school visit on mental health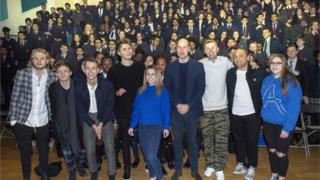 Prince William has warned teenagers about online "fakeness" during a surprise visit to a London school.
He brought fellow mental health campaigner and rapper Professor Green to a special assembly on the topic.
The prince told pupils not to try to present a perfect image of themselves online, telling two 15-year-old girls: "Don't worry about that".
The pupils learnt about his Stop Speak Support scheme, which describes how to tackle cyber-bullying.
The prince's comments at Ark Burlington Danes Academy in White City come amid a growth in the market for apps that automatically edit photos to remove blemishes, alongside a proliferation of professionally edited celebrity photos online.
'Don't worry'
With boy band The Vamps also in the audience, William said that he and Professor Green had grown up without the influence of the online world, which he described as a "whole new sphere".
He said "touched up" pictures were a particular problem, especially for girls.
"Don't try and recreate or think that's what, you know, you've got to aim for - there's a lot of fakeness online so don't worry about that," he said to Samara Hackett-Valton and Sophie Crowder, both aged 15.
Professor Green described to the girls how he handles online abuse, including "trying to remind myself (they're) the opinions of people that I don't know and don't actually know who I am as a person, because they're not in my life."
After meeting Prince William, Sophie said she recognised the pressures he described.
"I've done my hair, I've done my make-up before going online, I'm just as guilty.
"You make an effort when you're on Snapchat and you've got 50 followers - they're not your best friends as you've never met them, but still you don't want them to see you after you've just got out of bed," she said.
Samara spoke of a similar experience, saying: "I take hundreds of pictures and delete them all because they're not what I want."
She said it would help if celebrities shared photos that were more realistic.
In 2017, the prince, his wife the Duchess of Cambridge and his brother Prince Harry founded the Heads Together campaign to raise awareness of mental health issues.