'Coming face to face with my rapist'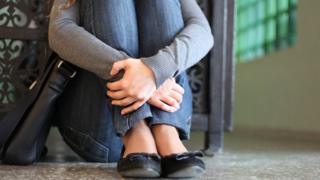 What does it feel like to come face to face with the person who sexually assaulted you?
That prospect became a reality for some of the victims of black cab rapist John Worboys at London High Court.
Solicitor Harriet Wistrich told the BBC the "last-minute" decision to bring the 60-year-old to court in person was a "shock" and had been a "gruelling" experience for one of the victims she represents.
But even when a victim knows they will see their attacker in person it can be impossible to prepare in advance, says Winnie M Li.
"There is no way to accurately describe what it feels like, seeing the face of someone who decided to do that thing to me - rape me - and in that single act, wreak so much havoc in my life," she says.
In 2008, Ms Li was raped twice while walking through Colin Glen Forest Park in Belfast. She was 29 at the time and was visiting from her home in London. Her attacker was 15.
"Nausea, constant anxiety, nightmares, flashbacks and panic attacks - these were my everyday reality for months leading up to the trial against my rapist," she says.
"And the mere notion of being in the same room would make me terrified and physically sick."
Her attacker pleaded guilty at the last minute so she avoided having to face him on that occasion, but she did see him in court when he was sentenced to eight years in prison.
"In the courtroom, I avoided looking at him - but at the very last moment of the sentencing hearing, I wanted to have one final look at him," she says.
"Just so I could say to myself 'that's the person who caused all this trouble, and now he's going to prison'.
"He had already been convicted, so I no longer felt as vulnerable, but it was still distressing to be in the same room as him."
She says even now, 10 years on, it would be very distressing to see him again.
'Out-of-body experience'
Sarah - not her real name - lives in the same area as her attacker so the possibility of seeing him again hung over her.
She was raped by her then-partner last July and says she had envisaged "six billion different scenarios" where she bumped into him.
But it still couldn't prepare her for that moment. It happened as she was celebrating a relative's birthday at a pub - the door swung open and her rapist walked in.
"I froze. Everything in my body froze," she says.
"I just went blank for quite a while. I can't tell you why I was petrified, and I couldn't explain to you why I reacted like I did."
She describes the attack as an out-of-body experience, and says seeing him again had the same effect.
"When I bumped into him, I felt like I watched it happen to me... I felt like I was watching myself react to it in a way that it isn't normal for me.
"I'm very much of the attitude that 'I can get through anything'. [The rape] had more of an impact on me than I ever thought that it could."
Sarah was at the pub with a group of friends who she says helped her feel protected by acting as a barrier. Her attacker was eventually made to leave.
"If I'd been on my own, it would have been a very different situation," she adds.
The case is still being investigated and Sarah feels the chances of another encounter remain very real.
To minimise the risk, she avoids going to certain places. When at a supermarket she says she will check every aisle before buying anything, just in case he is there.
But coming face to face with your attacker can also be part of the recovery process for some people.
Last month in a court in the US, 156 women took the chance to directly confront their attacker, former Olympic doctor Larry Nassar, who was jailed for 175 years for sexual abuse.
Some of those women said it made them feel empowered. Where, when and how a meeting happens is crucial for a victim.
'I had an escape route'
Laura Coel, from Morpeth in Northumberland, went 10 years without seeing the man who had groomed and sexually assaulted her between the ages of four and 14.
But she had unanswered questions.
So through the restorative justice system she spent 11 months preparing with her victim liaison officer for a meeting with her stepfather, who had served four years in prison.
"One of my worries was that I'd bump into him on the street or something," she says.
"By doing it through the restorative process, it meant it was really safe and controlled, which made me able to process it a lot easier."
They had an agenda for the meeting and a list of questions, which she had sent to him in advance.
"I was 100% prepared and knew what I had to do if something was going in a way I didn't want it to go," she recalls.
"I had an escape route, which was really important to know. I didn't feel trapped or I didn't have to endure anything that I felt was uncomfortable for me.
She describes her emotions beforehand as "nervous excitement".
"I'd been building up to it. It was like 'I'm able to do this, and then move on, and get past it'." Their meeting lasted three hours.
"When I left I felt euphoric and lighter, rather than drained. I think it was more emotionally draining leading up to it, but then after it just felt like I'd been cleared of everything."
Dr Nadia Wager, reader in forensic psychology at the University of Huddersfield, said she has had similar results with victims she has helped through restorative justice.
"The impact is phenomenal, but that's with good preparation, where they have really had a chance to think everything through. They say meeting them is very empowering."
However, she says unplanned meetings with an attacker can be a "significant trigger for post-traumatic stress disorder".
"It will put people back, emotionally and physically, in the place where they were the abuse or assault happened."