Protest after Vue cinema cancels 'gay cure' film screening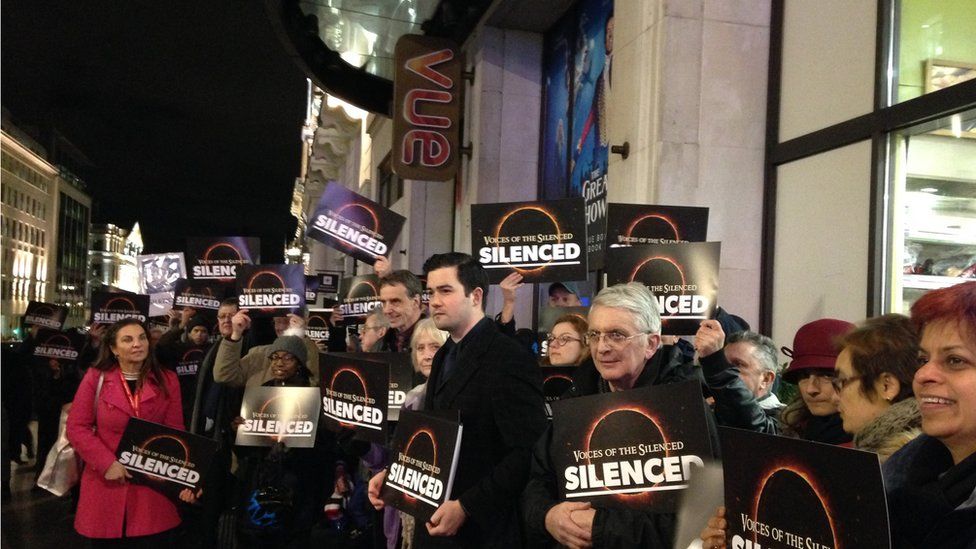 Dozens of protesters have gathered outside a London cinema to protest against the cancellation of a screening of a film advocating therapy to "cure" people from being gay.
Christian group Core Issues Trust hired a screen at Vue Piccadilly, in the West End, to show its film - the Voices of the Silenced.
But the cinema cancelled the event at the last minute, saying it contradicted the company's values.
Protesters accused Vue of censorship.
According to the film's makers, the documentary tells the stories of 15 people "emerging out of homosexual lifestyles" and aims to "preserve and promote teachings on sexual ethics".
Michael Davidson, who leads Core Issues Trust, said the film was "very niche" and reflected "our community", which he says is a small but growing international group.
The cancellation was regrettable and showed no regard for this section of the population, he added.
He said the film did not disrespect the LGBT community. Rather, it raised issues from a different point of view.
Andrea Williams, chief executive of Christian Concern, an organisation which wants to see the UK "return to the Christian faith", said the Vue's decision to cancel had been "tragic and disproportionate".
"This is a freedom issue," she told the BBC. "This film is the stories of lives that are transformed, marriages saved, fathers who stay fathers.
"There is nothing wrong with saying I don't want to do that any more. I want to access therapy to help me live in a different way," she said.
The protest was, she added, about showing people: "We are not going away."
The film was screened instead at an alternative venue, at a nearby conference centre in Westminster.
In a statement, Vue said it was not "our intention to censor content".
"In some instances, where we feel that an activity and its associated campaign and content are in direct contradiction with Vue's values, we make the decision to refrain from allowing that activity to take place in our cinemas," it added.
It said management had been made aware the private screening request would be promoting and campaigning for a medical "cure" to homosexuality.
"After careful consideration of the facts, a decision was made to cancel the event," it added.
The decision, made on Tuesday, was reached independently of any external influence, including media, social media or petitions, it said.
It went on to say that the Vue would "always consider, and be sensitive to, our customers when we are asked to promote or indirectly endorse, or act as host for, one particular cause, campaign or belief".
The Core Issues Trust promotes "change-oriented processes" for "relationally and sexually damaged and wounded adults who seek wholeness".
It describes itself on its website as "a spiritual home... for believers and seekers who struggle with issues of sexual brokenness, including homosexuality".
Members of the LGBT community have said the organisation's teachings are "unethical".
A spokesperson for campaign group Stonewall said: "LGBT people aren't ill. Being gay, lesbian, bi or trans is not something that should be 'cured' or changed.
"This unethical and degrading practice has been condemned by all major UK health organisations.
"It's shocking that Vue Piccadilly initially viewed this as a suitable film to screen."