Why are most problem gamblers men?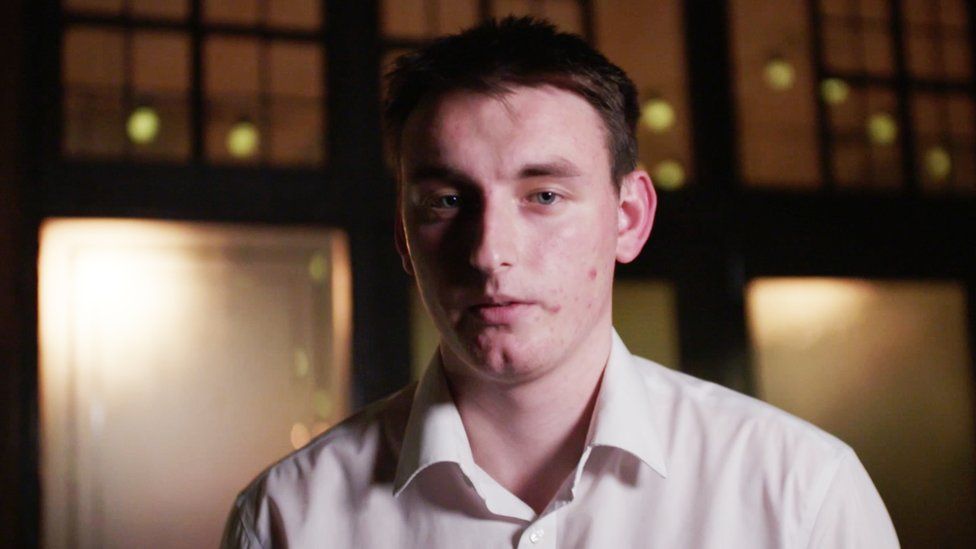 Men are seven-and-a-half times more likely than women to become problem gamblers, research suggests. What makes them more prone to developing an unhealthy gambling habit?
"It's a 'lad culture' thing," 22-year-old Matt tells the BBC's Victoria Derbyshire programme.
"You can't go to the pub on a Saturday afternoon without having the football on the TV, and then obviously there's adverts that come on and you get the urge to bet.
"I couldn't watch a game of football without having a bet on it," he adds.
Matt, a trainee accountant from London, started gambling as soon as he turned 18, and says he has lost as much as £30,000.
Unsurprisingly his experience has made him feel miserable, compounded by the fact that it took him three years to find help.
"It was embarrassing to open up [to friends] and say, 'I'm really struggling with this gambling problem'. They were involved in gambling as well," he points out.
Some 63% of adults have gambled in the past year, 2017 research from the Gambling Commission suggests.
It found little difference between the sexes - 66% of all men and 59% of all women took part in some form of gambling, including the lottery.
But men were seven-and-a-half times more likely than women to become a problem gambler - which the organisation defines as someone whose habit compromises, disrupts or damages family, personal or recreational pursuits.
Dr Robert Lefever, says men's personality traits make them much more likely to become problem gamblers.
A former gambling addict himself, he set up the first rehabilitation clinic for compulsive gamblers in the UK.
One aspect of the problem, he argues, is that that men tend to be more hedonistic than women, a trait which is part of being "macho".
"Men are generally greater risk takers than women, they tend to be rather proud of it," he says.
"I used to boast about how much I had lost. I lost three months' income on the turn of a card in a poker game. This is not something that I should be proud of," he adds.
Dr Lefever - who says he went bankrupt and lost £16m as a result of his own gambling addiction - believes there are three main factors which can cause addiction.
"One is genetic, some of us just have an addictive nature," he argues.
"The second is sociological - the environment. There are some environments that are particularly risky.
"The third is exposure - the way it is marketed. Gambling and sport do go together uncomfortably closely," he adds.
Other experts suggest that biological differences between men and women may also play a role in the problem.
Dr Henrietta Bowden-Jones, a consultant psychiatrist in addictions, says research suggests that more impulsive people have always proven to be men.
"Men are the ones who [wait less time to bet] as odds drop," she says.
"They press the button straight away, they chase their losses more."
Mara Mather is part of a team of researchers from Southern California University in the US whose experiment with 48 people uncovered the different ways men and women react differently to stress.
The team made a group of men and women place their hands in ice cold water, which released the stress hormone cortisol, before taking part in a gambling task.
In the control group - who did not do this - there was no difference between the level of risk that men and women took subsequently.
But in the group that did, men were significantly more risky in their behaviour while women were more conservative.
Ms Mather says this suggests there could be a correlation with men's problem gambling.
"Having a gambling problem - and getting into trouble, into debt - leads to stress," she says.
"So [for men] it could actually be a vicious circle," she explains.
It is estimated that British men will watch an average of about 20,000 hours of televised sport throughout their lifetime, with football being by far the most watched.
By contrast, women will watch about half that amount.
The Gambling Commission said guidelines were already in place to stop gambling ads appealing to stereotypically masculine traits.
And it has launched a consultation on whether or not fines could be used to deter gaming companies from breaching them.
For his part, Matt says chasing a win is one of the worst feelings you can ever have.
"With all men, you want to live the high life," he says.
"[You think] gambling is a way of making money - but in reality it just takes you down," he adds.