London Bridge terror attackers 'took steroids' before incident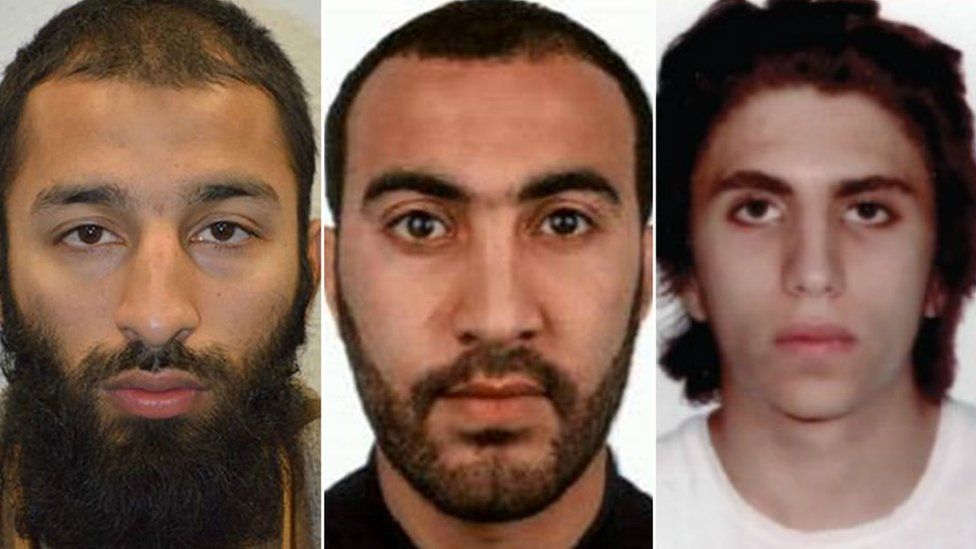 The three men who carried out last June's London Bridge terror attack were all found to have had steroids in their systems when they died.
Eight people were killed when Khurum Butt, Rachid Redouane and Youssef Zaghba drove a van into pedestrians and stabbed others in Borough Market.
Police then shot and killed the men.
At a pre-inquest hearing at the Old Bailey on Friday, the court was told samples from all three attackers contained the steroid hormone DHEA.
Xavier Thomas, 45, from France and Chrissy Archibald, originally from British Columbia, were both killed on the bridge.
Ignacio Echeverria Miralles De Imperial, 39, from Madrid, Sebastien Belanger, 36, from France, Sara Zelenak, 21, from Brisbane, Kirsty Boden, 28, from Loxton in South Australia, James McMullan, 32, from Hackney in London, and Alexandre Pigeard, 26, from Caen, in Normandy were killed in the market.
Toxicology reports submitted to the court said the levels of the steroid in their systems were "above the acceptable physiological range" and that the substance had been taken "recently prior to death… in a period ranging from several hours to days".
An expert witness is now going to be called to give evidence to the inquest and prepare a report on the implications of the findings.
Mark Lucraft, the Chief Coroner of England and Wales, began Friday's proceedings by offering his condolences to the victims' relatives, some of whom were in court.
Referring to the "dramatic events" that happened just three months after the previous terror attack in London, he said: "Central London and another iconic bridge... was the scene of shocking events that devastated the lives of many.
"I hope the [inquest] will provide answers to the obvious and understandable questions that the families have... and give comfort in such difficult circumstances".
The coroner decided that two separate inquests would be carried out - one to decide on the deaths of the victims and a second one for the attackers. The latter will have a jury present.
A jury is mandatory at an inquest if the coroner has reason to believe the death resulted from an act or omission of a police officer.
However, another pre-inquest review will take place first - likely to be in either June or July - before the two inquests start fully in 2019.
The two hearings are expected to last a total of two months.