Islamic State 'Beatles' duo 'should be tried at The Hague'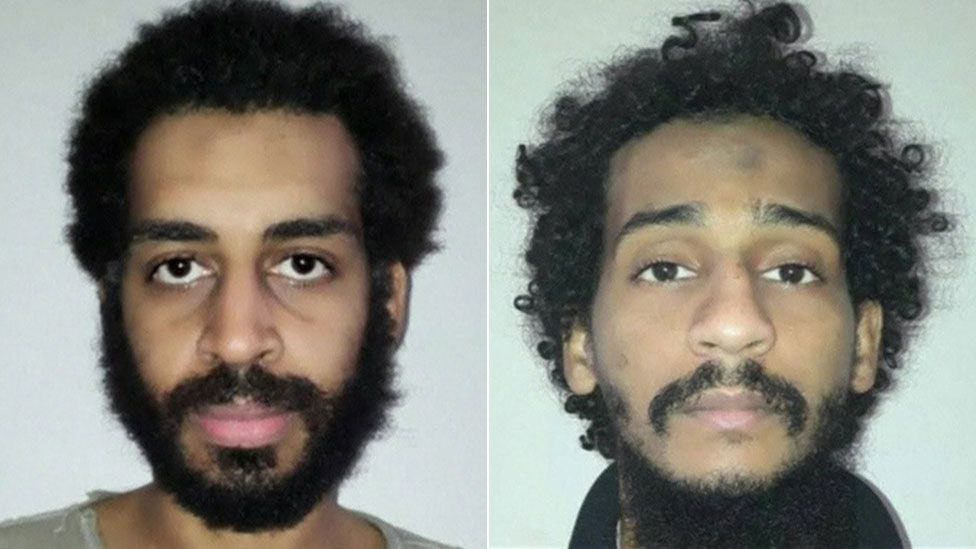 Two captured British fighters should be tried in an international criminal court, rather than sent to Guantanamo Bay, a defence minister has said.
Tobias Ellwood told two newspapers it was important that "terrorists from any origin are transparently and fairly held account for their actions".
The fighters, Alexanda Kotey and El Shafee Elsheikh, were captured by Syrian Kurdish forces in Syria.
The BBC understands the pair have been stripped of their UK citizenship.
They were the last two of four UK IS members known as "the Beatles", so called because of their British accents.
The cell became infamous for its high-profile executions of Western hostages.
The Syrian fighters who captured them say they are yet to receive a request from any country to hand them over.
It has been suggested they could be sent to the US military prison at Guantanamo Bay.
Alternatively, they could be put on criminal trial in the US or at the International Criminal Court, The Hague, which can prosecute people for genocide, war crimes, crimes against humanity and aggression.
Mr Ellwood demanded "an agreed international process" for captured fighters, in interviews with The Times and the Daily Telegraph.
"Guantanamo Bay created a new combatant status that bypassed the Geneva convention, used torture and failed to address a wider global jihadist insurgency that continues today," he said.
"The horror of 9/11 meant we briefly lost sight of the standards and rule of law that took centuries to develop and fundamentally distinguish us from the terrorist."
He added: "Given the scale of foreign fighters we should consider an agreed international process involving The Hague, which ensures terrorists from any origin are transparently and fairly held account for their actions."
The families of some of the cell's victims have also said the two captured fighters should face trial.
The US Department of Defence spokesman said they were "still considering options".
"Rest assured our intention is to hold anyone accountable who commits acts like those they are alleged to have committed," Major Adrian Rankine-Galloway from the department said.
He confirmed the captured fighters were being held by US-backed Syrian Democratic Forces in a "detention location" in Syria.
The four members of the IS cell all grew up in west London.
Both are designated terrorists by the US, which says they have used "exceptionally cruel torture methods".
The other two cell members were Mohammed Emwazi and Aine Davis.
Dubbed Jihadi John, Emwazi was the masked militant who featured in gruesome IS videos, taunting Western powers before beheading hostages.
Davis, who sold drugs before turning to Islam, was convicted of being a senior IS member.