George Soros pledges extra £100,000 to pro-EU campaign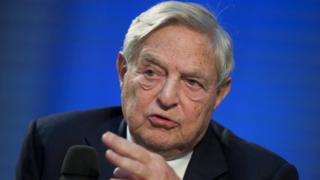 George Soros has pledged an extra £100,000 to a campaign to keep Britain in the EU, citing a "smear campaign" over a donation he made days earlier.
The investor gave £400,000 to pro-EU Best for Britain through one of his foundations, it emerged on Thursday.
Following criticism of Mr Soros, a crowdfunding page was set up to raise a further £110,000 for Best for Britain.
Mr Soros, who will now match the first £100,000, told the Guardian he was "happy to take the fight" to critics.
He told the newspaper that there was a smear campaign against him in the right-wing press, used to "prop up their failing case".
He wrote an article in the Mail on Sunday describing "toxic, personal criticism we have seen in recent days", since his donation was first publicised.
More than 2,300 people have donated to the crowdfunding page, which was set up in the wake of criticism against Mr Soros by Best for Britain.
The group was co-founded by Gina Miller, who took the UK government to court in 2016 over its triggering of the Article 50 process to leave the EU.
Best for Britain said it would use the money to campaign against Brexit in UK towns and cities, as well as on social media, to "ensure that stop Brexit - not soft Brexit - is firmly on the table".
According to the Daily Telegraph, Mr Soros's initial £400,000 donation was made through his Open Society Foundation.
Hungary-born Mr Soros, 87, is known as the man who "broke the Bank of England", when he bet on the devaluation of sterling in 1992.
The outspoken financier has previously suggested it would be possible for Britain to apply to rejoin the EU soon after Brexit and describes the UK's exit as a "tragic mistake".