Ex-British soldier 'who fought IS' charged with terror offence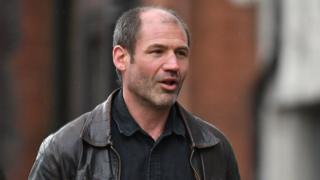 A British man who fought against the Islamic State Group in Syria has appeared at Westminster Magistrates' Court charged with a terror offence.
It is the first case of its kind in the UK.
James Matthews, 43, who lives in Dalston in London, is a former British soldier.
He is charged with having attended a place where training was provided for purposes connected to the commission or preparation of terrorism.
His defence barrister, Joel Bennathan QC, told the court the allegation he faces is of attending a training camp "as part of a group of people struggling to assist the Kurdish groups fighting against ISIS".
Mr Matthews spoke in court to confirm his name and address and said that his plea would be "not guilty".
The magistrate said it was a very "unusual case", the first time that someone who fought against IS had been charged with a terror offence in these circumstances.
Mr Matthews was granted bail and will next appear in court at the Old Bailey on 1 March.
At the scene
By Emma Vardy, BBC News, at Westminster Magistrates' Court
James 'Jim' Matthews was greeted by a crowd of supporters outside the court who turned out to voice their opposition to the charges against him.
Some of them were former volunteers who have fought against IS with the Kurds in Syria
There are dozens of people from Britain who have fought against IS in Iraq and Syria with the Kurds. Many have returned to the UK.
Mr Matthews charge is a landmark case.
His defence barrister Joel Bennathan QC said this is the first time terror legislation has been deployed to seek the conviction of someone who is assisting a group (the Kurds), who are also being assisted by the UK government.