MPs warn 'urgent' funding needed to reverse prison decline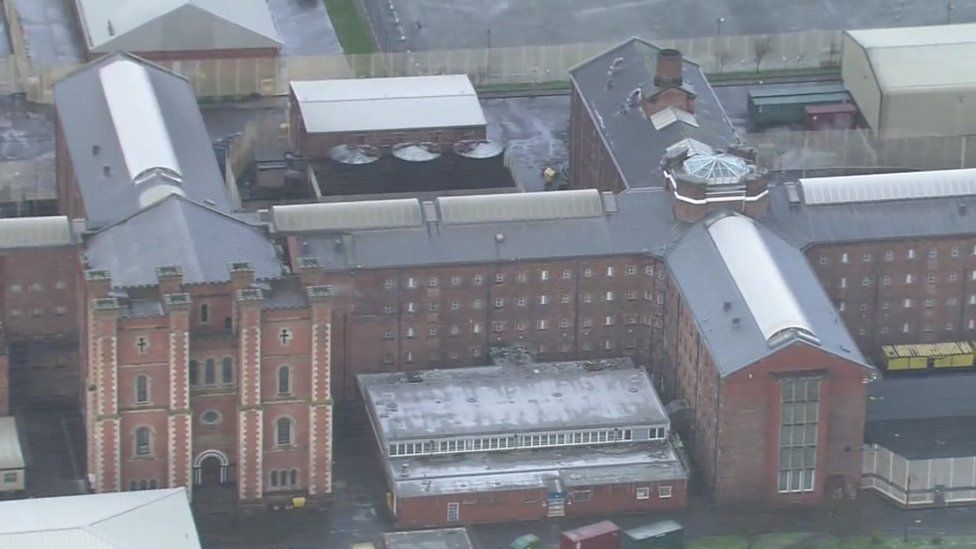 Prison inspectors need more funding to hold the government and prison bosses to account when jails have "urgent and serious failings", MPs have said.
The MPs pointed out that inspectors had made recommendations in 2015 but it "did not result in improvements".
Chief inspector Peter Clarke said too many prisons failed to take inspection reports seriously.
He described this as an "abject failure" that "must stop".
The MPs report focused primarily on Liverpool Prison but warned the jail was "not unique", adding that its problems were "symptomatic of shortcomings evident across the prison estate".
Key recommendations from the report include:
additional funds for HMIP to hold prisons to account when they do not achieve recommendations
greater scrutiny of major contracts at prisons and penalties for providers who fail to meet their obligations
for the Ministry of Justice and HM Prison and Probation Service to publish a plan to resolve persistent overcrowding (71 of 116 UK prisons are currently overcrowded)
An inspection in September 2017 found rats and cockroaches were rife at Liverpool Prison, with one area of the jail so dirty, infested and hazardous it could not be cleaned.
Some prisoners were kept for more than 22 hours a day in cells that should be condemned, said inspectors, with exposed electrical wiring and filthy, leaking lavatories.
A 2015 inspection led to 89 recommendations, but only 22 had been fully implemented two years later.
The Justice Committee said national, regional and local management had all failed in their oversight of the prison.
Mr Neill added: "It is clear that HMIP require additional resources so they can make sure that their recommendations are properly acted upon."
A Ministry of Justice spokesperson said: "Ministers have been absolutely clear that conditions at HMP Liverpool were unacceptable and we will not stand for them.
"We want to be held accountable when failings persist, which is why Ministers introduced the Urgent Notification process - demanding the Secretary of State introduce tough measures to improve failing prisons."
Head of the prison service Michael Spurr told the committee there was "a failure at local level to follow through on the recommendations [made by HMIP in 2015]".
He added: "I accept that from an organisational perspective we did not have enough robust governance above establishment level to make sure that [the recommendations made in 2015] were being delivered properly."
Liverpool Prison's new governor Pia Sinha told the committee she had "initiated a deep clean of all external areas" and had increased the number of prisoners cleaning.