Center Parcs pulls Daily Mail ads over Tom Daley article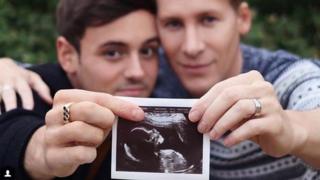 Center Parcs has announced it has stopped advertising in the Daily Mail.
It took the decision after its advert appeared in an online article by columnist Richard Littlejohn that criticised diver Tom Daley and his husband Dustin Lance Black, who are expecting a child.
Littlejohn claimed children "benefit most from being raised by a man and a woman".
Center Parcs said the placement of the advert was "completely unacceptable".
It was responding to a complaint from a person who tweeted: "My son so wants me to book at your parks, but how can I do that if you support homophobia?"
The holiday resort firm responded to the tweet: "We take where we advertise very seriously and have a number of steps to prevent our advertising from appearing alongside inappropriate content.
"We felt this placement was completely unacceptable and therefore ceased advertising with the Daily Mail with immediate effect.
"We apologise for any offence this may have caused."
In his article, Littlejohn said he supported civil partnerships, and would prefer a child to be fostered by "loving gay couples" rather than be "condemned to rot" in state-run institutions.
He added: "That said, and despite the fact that countless single parents do a fantastic job, I still cling to the belief that children benefit most from being brought up by a man and a woman."
London's Southbank Centre earlier announced it would no longer be advertising in the newspaper because of Littlejohn's article.
The move comes after the pressure group Stop Funding Hate posted a tweet naming the brands who advertised in the paper.
A campaign by the same group in November 2017 led stationery chain Paperchase to stop running promotions in the Daily Mail, as did Lego in 2016.
Virgin Trains also announced it would stop selling the Daily Mail on its West Coast services.
However, it reversed the decision days later.
Virgin Group boss Sir Richard Branson said he instructed the firm to restock the paper while a review takes place.
In response, the Daily Mail said it welcomed the "support for freedom of speech".