Max Mosley accused of 'muzzling press'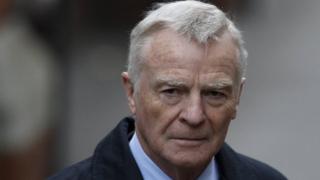 The former Formula 1 boss Max Mosley has been accused of trying to use data protection laws to "gag the press for his own advantage".
Mr Mosley's lawyers have written to several newspapers, demanding they stop publishing details he considers not to be in the public interest.
But Trevor Kavanagh, the Sun's associate editor, said Mr Mosley was "using his considerable fortune to muzzle the press".
Mr Mosley called this "nonsense".
A letter was sent to the Sun, the Times, the Daily Mail and the Daily Mirror, warning them against publishing details of two subjects.
They include Mr Mosley's relationship to the press regulator, Impress and the 2008 party that was at the heart of his privacy action against the News of the World.
"People need to know that he is doing this because of a story about a sadomasochistic sex orgy in which he was personally involved," Mr Kavanagh told Radio 4's Today programme.
"He wants this erased from the record."
In 2008, the High Court ruled the News of the World did breach Mr Mosley's privacy, awarding him £60,000 in damages.
Mr Mosley admitted he had taken part in a sado-masochistic sex session with five prostitutes, but denied that it had a Nazi theme.
He has since become a prominent privacy campaigner, funding the independent press regulator Impress through a family charity. Though officially-recognised, no UK national newspapers have signed up to it.
Impress "would not survive and could not operate without (Mr Mosley's) money", Mr Kavanagh said.
This was true - Mr Mosley said - but added: "What I object to is them pretending that I control or influence Impress, which I don't".
'Smear campaign'
Mr Mosley told the BBC that he believed it was due to his ties to Impress that he had been attacked by some newspapers "constantly referring to the News of the World story" and by "falsely saying that I'm paying for Impress whereas in fact, it's independent".
Writing for Press Gazette, he said newspapers were doing this "in an attempt to smear me and Impress by association".
"The lawyers wrote a letter and you would expect the lawyers for the newspapers to write a letter back saying 'you're wrong, this is not the law'," he told Today. "In fact what happens is two full pages in the Daily Mail attacking me."
Responding to the letter, the Mail called it a "chilling new attack on press freedom".
Impress have lobbied for Section 40 of the Crime and Courts Act to be enacted.
If implemented, it could see newspapers forced to pay legal costs in libel and privacy cases, even if they won, if they don't sign up to an officially-approved regulator.
Mr Kavanagh said this would "cripple the newspaper industry".