Vegan brand CoYo recalls yoghurts after milk found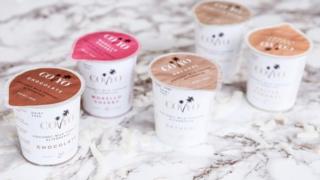 A vegan food company has recalled all of its dairy-free coconut yoghurts after they were found to contain milk.
CoYo, which makes dairy-free coconut milk yoghurt and ice cream, said it was "devastated" and had carried out a "thorough review of ingredients".
The brand, which has previously been endorsed by TV cook Nigella Lawson, markets itself on being free from dairy, lactose, gluten and soya.
The recall applies to 18 batches of yoghurts in all flavours.
The Food Standards Agency said the presence of milk - which was not declared on the label - poses a health risk for anyone who avoids dairy produce because of an allergy or intolerance.
The FSA said: "If you have bought any of the above products and have an allergy or intolerance to milk or milk constituents do not eat it.
"Instead return it to the store from where it was bought for a full refund."
CoYo yoghurt, which is made in a factory in Kent, costs around £3.50 for a 250g pot in supermarkets with flavours including salted caramel and morello cherry.
Lawson has previously used the yoghurt in recipes and posted links to the brand on her social media account.
In a message posted on Twitter, CoYo apologised and said: "During recent product testing, a small amount of dairy has been found in our yoghurts.
"We are devastated by this, especially as being dairy-free sits at the heart of everything we do."
The company added it had carried out a thorough review and learned that the contaminated material came from a third-party supplier.
It said the recall was a "precautionary measure" and it had terminated their relationship with the supplier.
The recall applies to yoghurts with a use-by date before 16 March and with the batch codes: 180115, 180116, 180118, 180119, 180122 to 180126, 180130, 180131, 180201, 180202 and 180205 to 180209.