Jonathan Udall dies after Grand Canyon helicopter crash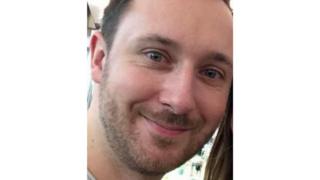 A fourth British tourist has died following a helicopter crash in the Grand Canyon 12 days ago while on his honeymoon.
Jonathan Udall, who was in his 30s and from Brighton, had been in hospital in Las Vegas since the accident on 10 February.
His family has been told of his death.
A spokesperson for his employer Yorkshire Building Society said they were "deeply shocked" by the death of a "well-known and well-loved colleague".
Mr Udall's wife, Ellie Milward, 29, was injured when the aircraft crashed in the remote Quartermaster Canyon and remains in a critical condition.
Stuart Hill, 30, and his girlfriend Becky Dobson, 27, and brother Jason, 32, from Worthing, West Sussex, died.
Another Briton, Jennifer Barham, 39, and the pilot Scott Booth, 42, were also injured.
A message posted on Thursday on a crowdfunding page set up to help Mr Udall and Ms Milward, reads: "It is with a very heavy heart that I must type this.
"Our good friend Jon Udall has succumb to his injuries. He was strong, brave and I will never forget him. Ellie is critical and is continuing to fight."
Both Mr Udall and Ms Milward were friends with the other Britons in the helicopter.
Ms Milward also worked at Yorkshire Building Society and the company's chief executive Mike Regnier said support was being offered to employees.
"We're all deeply shocked and saddened by [Mr Udall's] death," said Mr Regnier.
"We are in touch with his and Ellie's families and send them our deepest condolences. We hope to hear positive news about Ellie soon.
"We are offering colleagues, who are obviously shaken by this news, support at this upsetting time."
Severe weather
The Eurocopter (now Airbus) EC130 helicopter had spun out of control as it came in to land before crashing and catching fire.
The crash is being investigated by the National Transportation Safety Board but an initial report indicates possible causes could include a mechanical problem and gusty winds.
The chief of the Hualapai Police, Francis Bradley, had described the terrain as "extremely rugged".
He said the rescue efforts had been hampered by severe weather conditions and gusts of up to 50mph (80 km/h).
Jason and Stuart Hill and Ms Dobson, who had been in the US for Stuart's 30th birthday, died at the scene.
Jason Hill worked as a corporate lawyer for Shoosmiths in its Milton Keynes office.
Stuart Hill was a salesman at a Mercedes-Benz dealership in Brighton, East Sussex, while his girlfriend Ms Dobson, worked as a veterinary receptionist for Vets 4 Pets in Worthing.
The helicopter company involved - Papillon Airways - calls itself "the world's largest aerial sightseeing company" and says it flies more than 600,000 people a year.
The Grand Canyon, which is more than 1.6km (one mile) deep, is one of the most visited tourist attractions in the US.