Plan International charity reveals child sex abuse cases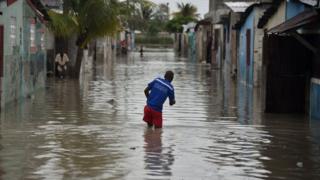 A children's aid charity has confirmed six cases of sexual abuse and child exploitation by staff or associates.
Plan International said five of the cases, which took place between 1 July 2016 and 30 June 2017, were reported to authorities in the countries involved.
On Friday it pledged - alongside 21 other organisations - to do more to protect those they were set up to help.
Plan International said it was "truly sorry", adding that the cases had not involved British staff.
The child rights organisation provides aid to more than 50 countries with the aim of improving access to food, water, shelter and education.
It also works to end child marriages and female genital mutilation.
'Abuse of power'
In a blog post, Plan International UK says that in the same 12-month period over 2016/2017 there were also nine incidents of sexual harassment or sexual misconduct by staff on other adults.
The disclosure comes as the aid sector has been hit by allegations of sex abuse and exploitation by workers.
Plan International UK is among the charities - including Save the Children UK and Oxfam GB - to have signed a letter pledging a series of "urgent and immediate" measures, including more resources for safeguarding.
"There can be no tolerance for the abuse of power," the letter says.
"We have an absolute duty to our staff, our supporters and, above all, the people we seek to help to ensure we do everything in our power to prevent, detect and eradicate unacceptable behaviour."
The promised measures include a review of referencing systems "so that people found to have abused their power or behaved inappropriately are not re-employed in the sector".
'Call it out'
Charities have been under scrutiny since the Times reported earlier this month that Oxfam GB had covered up claims of sexual misconduct by its staff in Haiti.
Haiti has suspended Oxfam GB operations in the country as it investigates the allegations from the aftermath of the 2010 earthquake.
Vicky Browning, head of the Association of Chief Executives of Voluntary Organisations, told BBC Radio 4's Today programme that said, while the charity sector could not guarantee "zero incidents", they could guarantee "zero tolerance".
She said: "Within the charity sector, some people have been concerned that if they report this kind of behaviour, it will harm the work that they so passionately believe in… [and] loss of public trust is hugely damaging for charities.
"What we need to be able to do within the charity sector is understand that we can be outraged and appalled by individuals' behaviour and call it out and tackle it."