Meghan Markle wants to 'hit ground running' with royal charity work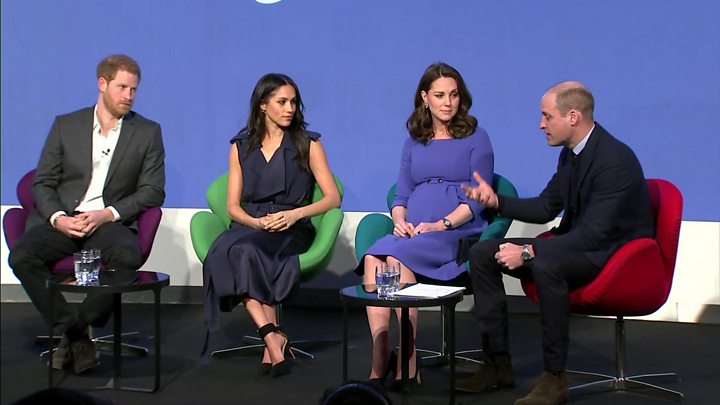 Meghan Markle wants to "shine a light on women feeling empowered" as she begins to work with royal charities.
She said she hoped to "hit the ground running" as she joined Prince Harry and the Duke and Duchess of Cambridge to discuss their foundation.
Her fiance, Harry, joked that the foursome were now "stuck together".
The Royal Foundation, set up in 2009, focuses on causes close to the royals' hearts, including the armed forces, conservation and mental health.
William, Catherine, Harry and Ms Markle held the foundation's first forum on Wednesday to discuss its plans for the future.
"We've all got that same passion to want to make a difference," said Ms Markle.
The former actress, who is to marry Prince Harry in May, has previously campaigned for the United Nations on topics such as gender equality and modern slavery.
She told the forum: "For me it's very important to want to hit the ground running... even if it's doing it quietly behind the scenes, which is what I've focused my energy on thus far."
She went on: "[I have also been] meeting with the organisations behind the scenes quietly, learning as much as I can so I can maximise the opportunity we have here to really make an impact."
Speaking about her work on women's rights, she said: "You'll often hear people say: 'You are helping people find their voices'.
"I fundamentally disagree with that because women don't need to find a voice - they have a voice.
"They need to feel empowered to use it and people need to be encouraged to listen."
Analysis
By Sarah Campbell, Royal Correspondent, BBC News
Billed as the inaugural forum of the Royal Foundation - the focus (from the media's perspective anyway) was largely on Meghan Markle.
And, as befits an actress, it's fair to say she stole the show.
As has become the norm, early tweets focused on what she was wearing (Jason Wu... if you're interested), her manner (totally at ease) and finally, what she said.
Prior to her engagement, Ms Markle had been a prominent advocate of female empowerment, not least through her role with UN Women.
It is therefore hardly surprising that she was happy to talk about it as an issue.
More interestingly, and unprompted, she mentioned the #MeToo and #TimesUp campaigns.
She didn't endorse the movements, but even their mention could be seen as a break from usual royal protocol, which generally gives a wide berth to any issue which could be seen as political.
Is this a glimpse of a slightly more edgy royal-to-be?
What is without doubt is that Ms Markle, under the umbrella of the Royal Foundation, will certainly add to the royal's already considerable campaigning power.
The foursome laughed when asked whether they had ever had disagreements when working together.
William said "oh yes", as Harry added: "Healthy disagreements."
He continued: "I think it's really good we've got four different personalities, we've all got that same passion to want to make a difference, but different opinions.
"And I think those opinions work really, really well. Working as family does have its challenges, of course it does... the fact everyone is laughing means you know exactly (what I mean) - but we're stuck together for the rest of our lives."
Prince Harry was also heard mentioning how the family were already busy with the "wedding", to which Ms Markle replied: "We can multi-task."
Opening the event, Prince William said the foundation's purpose was not to seek "quick wins".
He said: "All of the projects have seen us working to change mindsets to make a real and lasting difference.
"They have all seen us trying to tackle the biggest challenges of the day.
"They have all seen the foundation listening and taking advice from charities and experts, rather than showing up and pretending we have all the answers.
"And they have all seen us uniting people, forming teams and coalitions, to work to make a difference together."
Prince Harry added that he was hoping to focus on sustainable tourism in the future while the Duchess, who is heavily pregnant, spoke about parenthood influencing her charitable work.