Storm Emma: Everyday heroes in and out of uniform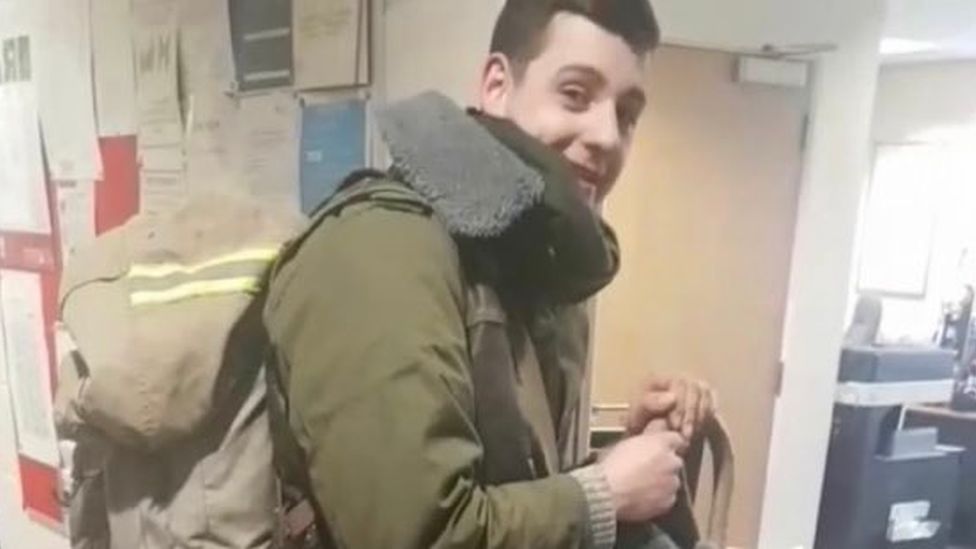 Firefighter Dan Cheetham is one of many people to prove not all heroes wear capes.
Snow and freezing conditions have continued to cause misery for many across the UK while the army has been called in to help rescue drivers stuck in the snow.
But it's not just those in the military who have been lending people in need a hand.
Even so, the efforts of Dan Cheetham, a Lincolnshire firefighter who walked 15 miles through the snow on Thursday - a day early - to make sure he was on time for his shift, has won the admiration of colleagues and the public alike.
"We'd taken quite a lashing through the snow," he told the BBC.
"The community had pulled together but there were four foot drifts in some places making roads impassable by car.
"I knew I had a duty of care to my community. That made my mind up that I had to get into work. I wouldn't recommend going out in the snow but I'm used to walking and left as early as I did because it was safer to travel in daylight."
Dave Gilbert, Mr Cheetham's manager at Lincolnshire Fire and Rescue, said he was "extremely proud of the efforts that [Mr Cheetham] has gone to to ensure we've got a full crew".
But Mr Cheetham, who was worked in the fire service for five years, said he thought some of his colleagues might have thought he was a bit "loopy".
"I had that many layers on I looked like the abominable snowman," he said.
Lydia Howells, 28, is a recovery nurse at the Royal Infirmary in Edinburgh. She works in the operating theatre.
"This morning I knew I had to get to work, but the car was totally snowed in and the busses weren't running so I decided to make myself a sign and hit the road walking," she told the BBC on Friday.
"At work I have seen how people have pulled together so I was hopeful someone would stop."
She set out wearing three coats and clutching a flask of hot water. Fortunately for Ms Howells, she was in the "extremely windy and bitterly cold" conditions for "no more than two minutes" before she was offered a lift.
"I was elated when someone pulled up," she said. "It was a really nice gesture. The guy who picked me up had to let the people he worked for know what he was doing, so they didn't think he was skiving.
"I have no idea how I am going to get home after my shift, so I've brought pyjamas in case I end up staying at the hospital," she added.
"There was no question in my mind that I was going to get to work today. I needed to get in to look after patients."
Glasgow-based surgeon Andy Renwick told BBC Radio Scotland on Thursday that one colleague walked from Anniesland to Paisley - almost eight miles - to operate on a cancer patient.
"I won't give her name because she would be genuinely upset with me," he said.
"She walked from Anniesland to Paisley - it took her two hours and 50 minutes. I saw her come in, she had snow goggles on, Gortexed up, top and bottom, snow shoes and walking poles."
Mr Renwick's colleague was due to operate on a patient with bowel cancer.
"She knew that had to be done and so she made extra effort to get in here to make sure that was actually delivered."
Emily O'Connor, a trainee obstetrician at Cork University Maternity Hospital, posted a picture on Twitter of her walk to work through the snow with a friend early on Thursday morning.
One proud child posted that his 65-year-old dad, who is a nurse in Sheffield, "walked miles to get to work through heavy snow".
"Nothing will stop him," he added.
On the A1 near Berwick-upon-Tweed, it was a man in a different kind of uniform who proved an unlikely hero.
Stranded motorists were handed cakes and doughnuts from the back of his lorry by a Greggs deliver driver.
Motorist Les Goff told Metro: "He offered me a cake and asked me if I'd help him deliver the cakes and doughnuts. It definitely lightened the mood, people were pleased".
Lesley Forster was stuck on the M80 in Scotland for 17 hours. After leaving Edinburgh at 2pm Wednesday afternoon, she didn't make it back home until Thursday morning.
"I had nothing with me," she told the BBC.
"I had to use the water I had to put in to my window wipers. I have never been so frightened in my life."
Fortunately for Ms Forster, a "young lad" who lived nearby was on hand with food and water for stranded motorists.
"He came out of his house with a sled filled with water and a few bits of food - all he had in the house - and handed it out," she said.
"I'm so grateful to him."
Ms Forster was not the only stranded motorist to benefit from the assistance of kind-hearted locals.
Rachel Muircroft paid tribute to the man who handed out water and snacks when the bus she was travelling on was caught up in the M80 standstill.
Been stuck on this bus on the motorway for 3.5 hours in the snow chaos. A guy who lives nearby just came on handing out water and snacks donated by his local shop. What a guy! That's the scotland way! ❤️🏴󠁧󠁢󠁳󠁣󠁴󠁿 #snow #M80 pic.twitter.com/XTGy4tY57f

— Rachel Muircroft (@rachmuircroft) February 28, 2018
John Gent was attempting to travel from Aberdeen to Devon, when he too was stuck on the M80.
"Last night local people were walking up and down and bringing water and sandwiches," he told the BBC on Thursday.
"The fire brigade were also giving out water," he added.
Kerry Thomson and her family own a cattle and sheep farm in West Linton, a village south west of Edinburgh.
"We went out with the tractor clearing all the tracks down so people could get in and out of the village," she told the BBC on Thursday.
"Pretty much the only other people we saw out were in tractors, out helping.
"Tractor is really the only way to get around at the moment.
"The village was effectively cut off so deliveries can't get in or out. I've got a bread maker so I'm making bread to deliver," she added.
By UGC and Social News team