Save the Children 'failed' to deal with women's complaints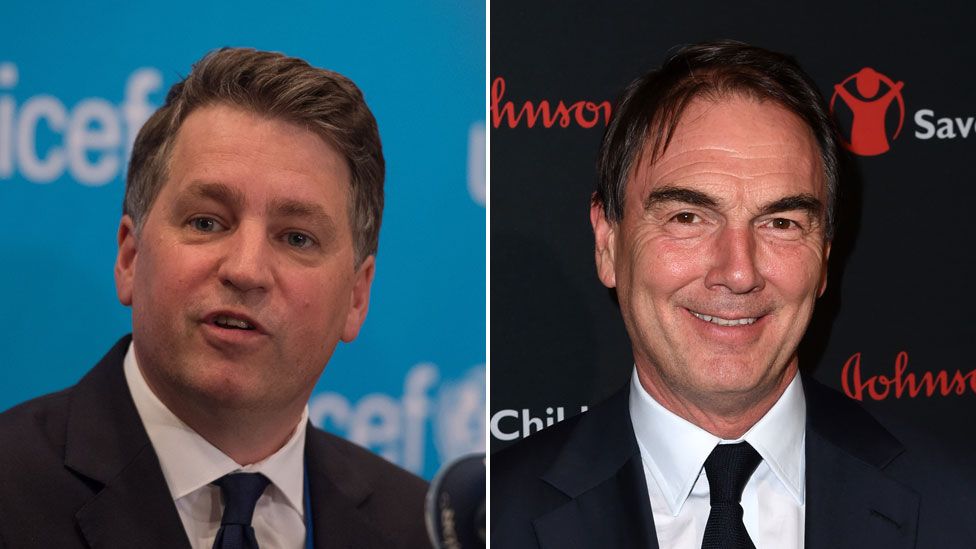 Save the Children "failed" to adequately deal with allegations against its ex-chief executive Justin Forsyth, according to leaked documents.
A 2015 report seen by the BBC contains evidence suggesting then chairman Sir Alan Parker's "very close" relationship with Mr Forsyth may have affected how he responded to complaints.
Three women employees accused Mr Forsyth of inappropriate behaviour, for which he said he had apologised.
Sir Alan said he had nothing to add.
A leaked email from the time recommended that Mr Forsyth should not be alone with female employees.
Mr Forsyth said that he had taken "responsibility" for his mistakes "many years ago", but did "not accept as accurate much of what has been reported today, either in tone or fact".
He said he "strongly refutes a number of the claims" and added that he had not seen the 2015 report.
On Tuesday, protesters from the Women's Equality Party interrupted the charity's board meeting to call for Sir Alan's resignation as Chairman of Save the Children International.
Alexia Pepper de Caires, a former Save the Children employee and Women's Equality Party member, was invited to meet the board on Wednesday following the protest.
"The board now has the information it needs to make decisions on the future of (Sir Alan's) leadership," she said.
Save the Children UK said a new review of workplace ethics would ensure that what caused previous claimants hurt "cannot be repeated".
It said the charity's "new leadership" and its trustees are "committed to respect in the workplace".
Ethics expert Dr Suzanne Shale, who is leading a new independent review for the charity, said she "acknowledges that past events may have caused distress to staff, and disquiet amongst those who support the work of the charity. We will listen to those accounts very carefully and with utmost consideration".
Days later, Mr Forsyth resigned from his role as deputy director of UNICEF, saying he did not want coverage of his past to "damage" the charities.
Now a report leaked to Radio 4's PM programme, which has never been made public by the charity, exposes failures in how these complaints were handled.
In it, a complainant claims Save the Children told her not to tell anyone about her case and that both her and Mr Forsyth's reputations were at risk.
"They weren't trying to protect me or safeguard any other women. It was just about covering this up as quickly as they could," she said.
The report - by law firm Lewis Silkin - was commissioned as part of a review of how Save the Children had handled complaints of inappropriate behaviour.
It was written in October 2015. Months later, Save the Children provided a reference for Mr Forsyth when he applied for a job at UNICEF, which made no mention of the complaints.
In a separate leaked email in 2015, a senior staff member said that allegations of sexual harassment made against Mr Forsyth were "not being treated with the appropriate degree of seriousness" and that "he should not be unaccompanied with female members of staff" until they could be sure his behaviour would not be repeated.
The senior staff member wrote that they had no confidence in Sir Alan Parker's handling of the complaints, saying he had "made a deliberate choice…not to fully investigate these allegations" and as a result had a "conflict of interest" in relation to the review.
As well as being the international chairman of Save the Children, Sir Alan is the founder and chairman of the PR firm Brunswick and counts former prime ministers among his friends.
Gordon Brown is godfather to his youngest son, and when David Cameron left Number 10, it was Sir Alan's west London mansion that became the Camerons' temporary home.
More than 240 people have signed a petition calling for Sir Alan, who was chair of Save the Children UK at the time of the complaints against Mr Forsyth, to be held accountable and removed from his current role.
The petition claims "his abuse of that power to dampen the situation is widely known" and signatories include current and former Save the Children staff.
The complaints against Justin Forsyth:
The first case was reported in 2012. The victim described receiving numerous inappropriate text messages from Mr Forsyth, who was her boss.
When she made it clear to Mr Forsyth that these texts were unwelcome and made her feel uncomfortable, he persisted in sending them. When she complained again, she alleges that he took her phone when he saw it had been left on her desk and deleted some of the texts. She then lodged an official complaint.
The head of HR at the time is quoted in the report as saying: "I thought the deleting of the texts was intimidating."
Because Save The Children never formally questioned Mr Forsyth about the allegations, the report does not reflect his account of events. His lawyers say he categorically denies that he deleted any texts.
The report is clear that a disciplinary investigation should have been held but states: "no adequate investigation took place".
Instead, Sir Alan instructed a trustee to meet the complainant for a chat. In the evidence, the trustee claims that Sir Alan briefed him in advance that he believed she may have "overreacted".
The complainant for her part described feeling "just so scared" when she would see Mr Forsyth.
Sir Alan wrote a formal warning to Mr Forsyth. This letter no longer exists although the report says it should have remained on Mr Forsyth's record. A draft of that letter in the report warned that "this type of conduct can amount to unlawful harassment".
In the report, Mr Forsyth insists the complaint was dealt with appropriately, adding that he had given up his bonus - worth £20,000 - that year. Sir Alan was on the Performance and Remuneration Committee that awarded that bonus in 2012.
The complainant said she was assured the formal warning would remain on Mr Forsyth's record and that "if this ever happened again, Alan will walk (Mr Forsyth) out of the door."
Both failed to happen and in 2015, two more women came forward with complaints.
The second complainant was an employee who would often go on business trips with Mr Forsyth to where Save the Children operated in the field.
During these trips, according to the leaked report, she received late night text messages from him, complimenting her on her work performance and asking her out for a drink. She declined but - according to her - the messages became "more demanding".
Between trips, Mr Forsyth invited her for "career chats" after work.
On one occasion, Mr Forsyth is alleged to have said: "Look, I fancy you, you fancy me. Why don't we just stop pretending?"
She says she made it clear she wasn't interested and subsequently made excuses to avoid business trips with him.
He sent her emails asking if she was avoiding him and she said that since then, she felt marginalised at work.
The third complainant's account set out in the report describes how one night on a business trip "they continued their work discussion, stopping outside (Mr Forsyth's) room... and (he) invited her into his room for a glass of wine.
"She sat on the table and he invited her to sit on the bed. She declined. She went to the bathroom and when she returned, he was reclining on his bed."
On another evening, Mr Forsyth is alleged to have announced he was "not CEO for the night" and asked her about her love life. He began to talk about his sex life and told her she was "beautiful and talented".
The complainant says she made it clear she was not interested and refused his advances.
In a statement issued by his legal representatives, Mr Forsyth admitted "personal mistakes during my time at Save The Children".
"I recognise that on a few occasions I had unsuitable and thoughtless conversations with colleagues, which I subsequently discovered caused offence and hurt," he said.
"When this was brought to my attention on two separate occasions, I apologised unreservedly to the three colleagues involved. The concerns were handled through a process of mediation."
'People behave differently abroad'
After the two later complaints, Save the Children's head of HR alerted Sir Alan, but evidence in the report shows he claimed he received a "less than supportive response".
Recalling a conversation with Sir Alan, he said it was "along the lines of 'Justin Forsyth is very important to the organisation; people behave differently when they're abroad; they would have been tired; they would have needed some mutual support; what were the complainants doing by agreeing to go to his hotel room in the first place."
The account goes on to record that the head of HR was "frustrated" by Sir Alan's response, "which he feared was as a result of Sir Alan Parker and Justin Forsyth being very close".
One complainant is quoted in the report saying: "It's more about who Alan is and having Alan and his best mate Justin sort of talking to each other about how best to handle these girls."
According to the report, Sir Alan said he didn't think there had been any "serious misconduct" or "predatory behaviour".
He also rejected suggestions there should be any work done to look at the "leadership culture" at Save the Children in light of these complaints and "generalised complaints of sexual advances and bullying" by Brendan Cox, the widower of the MP Jo Cox, who was accused of sexual assault by a member of staff at the charity a couple of months later.
Mr Cox says he does not accept the allegations, but acknowledges he "made mistakes" while working for Save the Children.
Sir Alan is described as saying, "the best way to protect the organisation from reputational risk is not to let the organisational response become disproportionate".