Sex education: Schools 'should promote celibacy', says Church of England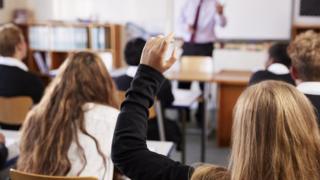 Schools should promote celibacy and abstinence as "positive life choices", the Church of England says.
The act of refraining from sexual activity is part of the Church's advice for sex education lessons.
In a blog post, it also says pupils should be taught the importance of "trust, loyalty and fidelity" in relationships.
Sex and relationships education was made compulsory in secondary schools in England last year.
The Church of England believes marriage is "the perfect context" for any form of sexual expression.
The blog, written by the Church's chief education officer, the Rev Nigel Genders, follows the Church's response to a government consultation on relationships and sex education.
He said its guidelines stem from an understanding that healthy relationships and sex are "good gifts from God and should bring joy".
The Church believes that the role of relationships and sex education should ensure children will thrive within relationships "of all kinds".
Rev Genders said: "It should give children accurate information to equip them for life in the modern world and make sure they are not harmed or negatively influenced by unrealistic or dangerous materials and expectations."
Schools will be encouraged to reflect their own values but are warned to be mindful of the community, including the context of belief, faith, religion and culture.
Guidelines 'out of date'
Rev Genders said schools have a "vital role" alongside parents to aid children's understanding.
"Taking that responsibility seriously means we are not prepared to leave their development to the distorted representations of sex and relationships that are just a few clicks away on their phones and computers, but will actively promote staying safe, developing healthy relationships, and protecting self-esteem and good mental health," he added.
Rev Genders' comments come after a government consultation on what should be included in the teaching of sex education after the Department for Education said current guidelines were "out of date".
There have been concerns that issues such as cyber-bullying, sexting and online safety were not being addressed in the advice.
The Church has responded to the consultation by highlighting the importance of healthy relationships, respecting others and sexuality.
Last year, it issued guidance about transphobic and bullying to schools.
The advice said primary schoolchildren should be free to explore "who they might be" without comment from teachers or other pupils.
The sexual health charity, FPA, says it is "vital" young people are given accurate information to promote healthy relationships and help them choose when and whether to have sex.
Its policy and public affairs manager, Emily James, said: "To be effective, it must be driven by what young people want and need, and is most successful when young people can relate to what they are taught and are offered lessons that are inclusive, positive and non-stigmatising."