William and Kate brave snowy St Patrick's Day parade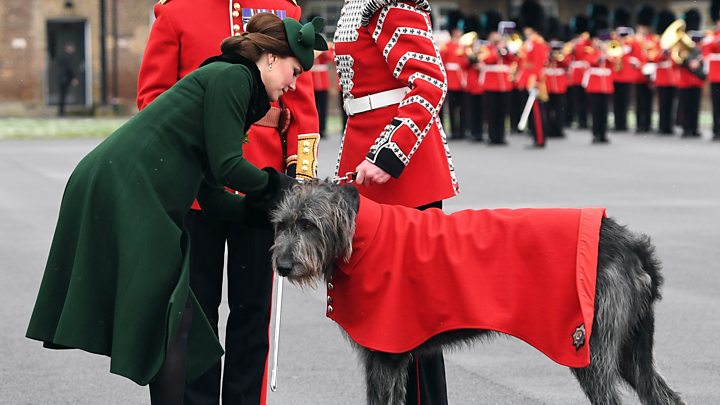 The Duke of Cambridge has taken the salute at the Irish Guards' St Patrick's Day parade.
His wife Catherine then presented the shamrock to officers.
They braved freezing temperatures to watch 350 soldiers, dressed in red regalia, parade at the 1st Battalion's base in Hounslow, West London.
A shamrock was also pinned to the collar of the battalion's mascot Domhnall, an Irish wolfhound, who led the march-past.
Before the parade Domhnall's handler, drummer Aidan Cathcart, worried that despite a week of test runs his charge would misbehave.
"Domhnall's role is very monumental - he is the first guy on the parade. He is the main guy on the march, it's a pretty important day for him," he said.
Asked if he was confident Domhnall would perform as planned, he replied: "No."
Prince William, who is a colonel of the Irish Guards, and Catherine had to face snow and strong winds as the UK experiences another cold snap.
The Duchess of Cambridge, who is due to give birth to the couple's third child next month, wore a green Catherine Walker coat and a Gina Foster hat.