Pope Francis to visit Ireland in August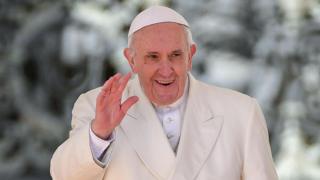 Pope Francis is to visit Ireland in August - the first papal visit to the country for almost 40 years.
He will arrive in Dublin as the city hosts the World Meeting of Families, an international Catholic event which is staged every three years.
The last pontiff to visit the Republic of Ireland was Pope John Paul II. He drew crowds of over 2.5m - more than half the state's population - in 1979.
Pope Francis will not be coming to Northern Ireland during the visit.
The director of the Holy See Press Office confirmed to BBC News NI the Pope's schedule would not include a visit to Northern Ireland.
Journalist Martin O'Brien, a columnist with The Irish Catholic newspaper, said the political impasse in Northern Ireland and the absence of a functioning executive were factors in the Pope's decision.
Recent clerical sex abuse allegations against deceased priest Fr Malachy Finegan may also have been a factor in the decision, added Mr O'Brien.
There had been previous speculation that he would visit north of the border, and Bishop Donal McKeown of Derry said he was very keen that such a trip could still be considered.
Protests expected
Like John Paul II, Pope Francis will celebrate Mass in Dublin's Phoenix Park.
He will also take part in the Festival of Families in Croke Park, the headquarters of the Gaelic Athletic Association (GAA).
It is one of the largest stadiums in Europe with a capacity of more than 82,000.
The announcement, which was widely expected, has been welcomed by the Catholic bishops in Ireland and by the Taoiseach (Irish Prime Minister), Leo Varadkar.
Mr Varadkar said he looked forward to meeting the Pope.
"While it is not a formal state visit, it will be a major event for Ireland, with a high degree of public participation and a high international profile," he said.
Pope Francis will arrive in a vastly changed and much more secular Ireland, with the church greatly diminished by clerical sex abuse scandals.
It is anticipated there will be protests by victims' groups angry that the Church has yet to redress their grievances.
Margaret McGuckin, who is leading calls for a special payment to child victims of abuse in Catholic residential homes in Northern Ireland, said the Pope has not done enough to help victims.
"I am sure there will be many of our survivor groups down south who will be protesting," she said.
"People could get quite angry and irate that the Pope is still coming, I don't think it is a good time for him to come here."
It was once considered among the most conservative countries in Europe, where the Catholic Church wielded great power and influence over the state authorities.
Until the 1990s, homosexuality and divorce were illegal.
Homosexuality was decriminalised in 1993 and the ban on divorce was removed by a referendum in 1995.
In 2015, the Republic of Ireland became the first state in the world to make same-sex marriage legal by a popular vote.