Russian spy: 'No way' spy nerve agent came from UK lab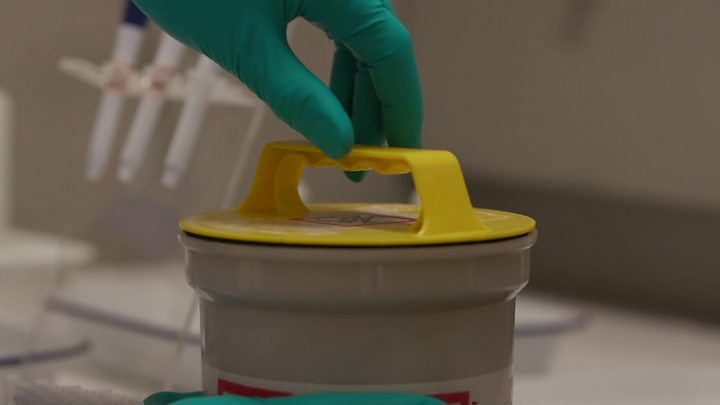 There is "no way" any nerve agent held at the UK's Porton Down lab could be linked to the poisoning of a Russian ex-spy and his daughter, the site's chief executive has told the BBC.
Gary Aitkenhead said suggestions by Russia that the proximity of the labs to the incident in Salisbury might be somehow suspicious were "frustrating" .
He said the laboratory had the "highest levels" of controls and security.
Sergei Skripal and his daughter Yulia remain in a critical condition.
In updated advice, Public Health England says people who had been in the Mill pub and Zizzi restaurant in Salisbury visited by the Skripals wearing clothing that can only be dry cleaned should arrange to have their items collected by the council.
It says anyone in either venue between 13:30 GMT on Sunday 4 March and closure on Monday should arrange to have their clothes collected by the council and they will be compensated.
PHE's earlier advice had been to wash possessions as a precaution and double bag in plastic clothes that needed dry cleaning until further notice.
EU coordinated action
Meanwhile, the 23 British diplomats ordered out of Russia in a tit-for-tat response to the UK's expulsion of 23 of its diplomats have now arrived at RAF Brize Norton, the Foreign Office said.
It come as EU leaders have promised further, coordinated action against Russia in response to the attack, endorsing a warning from Prime Minister Theresa May that the poisoning represented a challenge to shared European values.
The EU has recalled its ambassador to Russia, German Markus Ederer, "for consultations" after saying on Thursday it was "highly likely" Russia was behind the attack.
Mrs May had told MPs that scientists at Porton Down had identified the substance used in the attack as belonging to a group of military-grade nerve agents known as Novichok, developed by Russia.
Moscow, which denies responsibility for the attack, has accused the European Union of following an "anti-Russian campaign launched by London".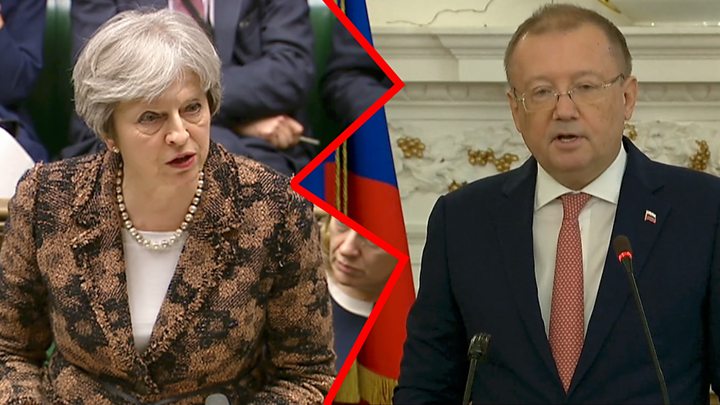 President Putin has called for the Russian people to unite behind him during what he called a "challenging time".
The bench the Skripals were sitting on when they were found unconscious on in Salisbury on 4 March has been removed by a team in protective suits, as the investigation continues.
A policeman left critically ill after responding to the incident was discharged from hospital on Thursday.
The Russian embassy in London wrote a public letter to Det Sgt Nick Bailey, saying it was "relieved" at his recovery and hoped the Skripals would "get well soon too".