Russia threat and terror the focus of security review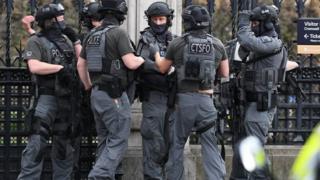 Threats from Russia and organised crime are the focus of a new national security strategy for the UK.
In what the prime minister has called a "fusion doctrine", the plan will combine intelligence and the Army with economics and diplomacy to defeat UK enemies.
Theresa May said "every capability" would be used against increasing threats on national security.
The review was completed before the Salisbury attack on a Russian ex-spy.
Sergei Skripal and his daughter, Yulia, were poisoned with a nerve agent in the Wiltshire city three weeks ago.
The UK, US and many EU leaders agree it was highly likely Russia was behind the poisoning, but Russia denies any involvement.
Announcing the strategy, Mrs May said the "reckless act of aggression" and last year's terror attacks in London and Manchester showed the need for tougher and multi-faceted action.
"These people should be in no doubt that we will use every capability at our disposal to defeat them."
Financial, cultural and diplomatic resources from Whitehall departments will be used to help boost security.
Iran and North Korea were also identified as key threats to the UK.
Security minister Ben Wallace said the strategy was about creating a "more focussed, co-ordinated" approach to modern day threats.
He told BBC Radio 4's Today: "We have to be quicker at staying one step ahead. We have to recognise our adversaries and adapt incredibly quickly to our weaknesses."
Mr Wallace added that new powers would be sought to handle this, but he would not be drawn on precise details.