Spy poisoning: Highest amount of nerve agent was on door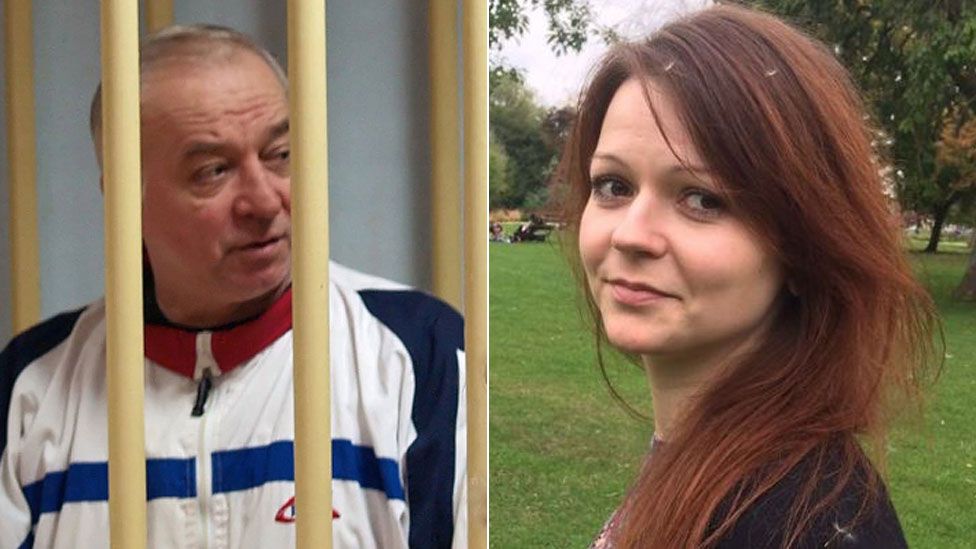 A Russian ex-spy and his daughter first came into contact with the nerve agent that poisoned them at their home, police have said.
The highest concentration of the agent used against Sergei and Yulia Skripal was found on their front door.
The pair were found collapsed on a bench in Salisbury on 4 March and remain in a critical condition.
Police said inquiries would focus on their home address in Christie Miller Road but the risk to locals was low.
Traces of the nerve agent had been found at some of the other sites in the city, but they were at lower concentrations.
Security correspondent Gordon Corera said the highest concentration was found on the Skripals' door handle, and could have been administered through a "gloopy substance which could have been smeared on to that door handle".
He added it would explain why the nerve agent may have been found on the Skripals' car - which has been taken by police - or the restaurant in which they had eaten which has been cordoned off by detectives.
About 250 counter terrorism officers continue to work on the case, examining 5,000 hours of CCTV footage and 1,350 items that have been seized.
Officers would continue working at the address over the next few weeks, and potentially months, Deputy Assistant Commissioner Dean Haydon said.
"Those living in the Skripals' neighbourhood can expect to see officers carrying out searches as part of this, but I want to reassure them that the risk remains low and our searches are precautionary," he added.
Forensic work at shops and at a cemetery in Salisbury is drawing to a close.
The Maltings shopping centre, the Ashley Wood compound, and the London Road cemetery have been handed back to Wiltshire Police from the national counter terrorism investigation, Deputy Chief Constable Paul Mills said.
Mr Skripal's wife and son are buried in the cemetery, and the former spy and his daughter were discovered unconscious at the Maltings shopping centre.
Prime Minister Theresa May has said the chemical used in the attack was part of a group of nerve agents developed by Russia known as Novichok.
The Russian government has denied any involvement in the attack and has vowed to retaliate against the "provocative gesture".
Foreign Secretary Boris Johnson said the nerve agent attack had crystallised a "global wave of revulsion" against Russia.
He added: "Never before has there been a collective expulsion of Russian diplomats on the scale that we have seen over the last few days."
Colonel Skripal is a retired Russian military intelligence officer who was convicted of passing the identities of Russian intelligence agents working undercover in Europe to the UK's Secret Intelligence Service, MI6.
He was jailed for 13 years by Russia in 2006.
In July 2010, he was one of four prisoners released by Moscow in exchange for 10 Russian spies arrested by the FBI. He was later flown to the UK.