Esther McVey: Saturday jobs help teenagers prepare for work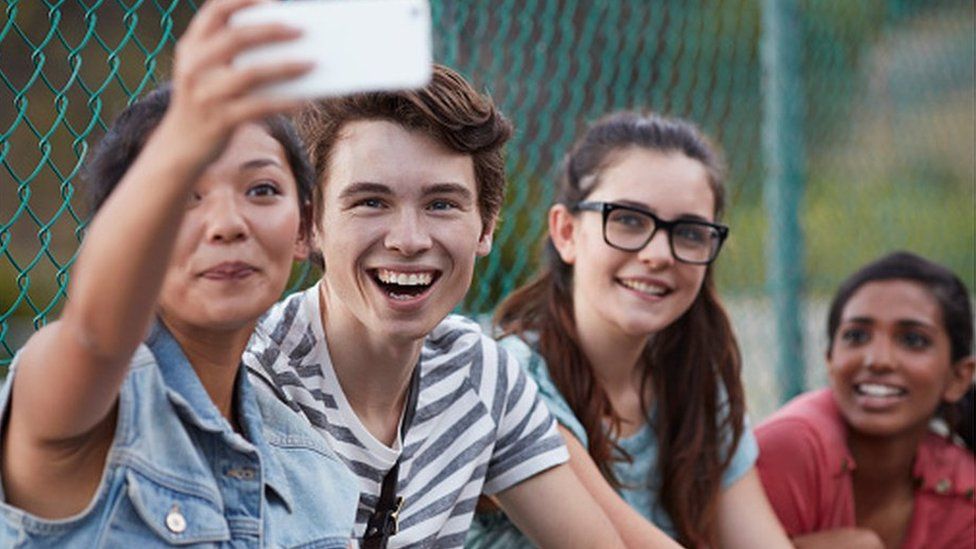 Schoolchildren should get part-time jobs to help prepare them for the work environment, the work and pensions secretary has said.
Esther McVey said she did not think they were "lazy" but there had been a "significant decrease" in the number of teenagers working on a Saturday.
As a result many lacked the "soft skills" needed for work, she said.
"What you've seen from the 1980s, particularly in this country, is far fewer people doing Saturday jobs and doing jobs after school," she said in an interview with the newspaper.
"It's about people understanding what a boss wants and what you want out of a job."
She said the fall in Saturday jobs could partly be as a result of an increased focus on school work.
However, she added that as a consequence many youngsters did not have the skills required for the workplace - such as good timekeeping and the ability to detach from their phones.
The work and pensions secretary said she had worked in her family's business and a bistro when she was still in education.
'Struggle to balance work and school'
Marie-Therese, Oxford: "As a 16-year-old I have been working as a food runner in an upscale pub for a few months now.
"I work Saturdays and some Sundays and honestly, I struggle to balance my A-level work with my paid work.
"The ever increasing pressure from school to focus on schoolwork is really difficult to balance with the stress that comes with working in a very busy pub and I only continue to work due to the need for money."
Ann Lipman: "My 14-year-old daughter does a student swim teacher job. She works twice after school for a couple of hours and on a Saturday morning.
"Our local council set this up where they take a course and then they are able to assist a fully qualified teacher.
"She loves the job and it gives her independence and is teaching her to manage money."
Emily, London: "I had a weekend job in a shop until a few years ago, where I worked alongside other sixth-form students. We were paid less than other workers and cash in hand.
"My selective school was furious I was working weekends instead of revising for A-levels, but I had no choice financially.
"Given the unnecessary academic pressures on teenagers, I am not surprised if fewer opt to work on weekends."
Harrison Taylor, Bournemouth: "I have had a job since I was 14 working with special needs children in school holidays when I had much less stress on me schoolwork-wise.
"Now I'm 20, I have got a lot of friends who are trying to get their first jobs now after they've left sixth form and they're really struggling because employers want people with working experience.
"I understand students' reluctance to take part-time work during the school term, but I don't understand why many are reluctant to get seasonal work - particularly in the summer."
'Restrictions stop me employing teens'
Matthew Griffin, York: "Owning a cafe in York, I have been approached by more 14/15-year-olds than people over 16 for a job.
"Unfortunately I have had to turn them all down. Being a small employer with three staff in on a Saturday, the much stricter rules around breaks and health and safety stop me employing them."
Darren Lamb, Headley: "I employ nearly 100 14-16-year-olds. The reason there has been a drop in this age group is 100% government increase in restrictions on the hours they can work, what they can and can't do etc.
"Last Tuesday we had an open interview which we only advertised on our company Facebook page and had 74 14-16-year-olds attend.
"Very few employers employ this age group due to all the restrictions and it gets worse year on year.
"Whoever decides on this child employment policy never takes into account the life skills they are attaining."
The findings came from a Freedom of Information (FOI) request by the BBC to all local authorities across the UK responsible for issuing child employment permits.
Employers need to apply for a licence to hire staff under the age of 16.
Ms McVey's comments follow the release of a report earlier this week from the government's immigration advisers, which said that Britons were seen as less hard-working and less reliable than EU workers.
The interim report is part of a review assessing the impact of Brexit on the UK labour market.
Ms McVey said: "Lets not put ourselves down, we've got a very hard working nation, we've now got record numbers of people in employment and nine out of 10 are UK nationals doing those jobs, that has increased significantly.
"But what we've got to make sure we do for business leaders is to say we've got to support you, we've got to make sure we've got the right people you want to employ going into your business."