Communities unite to defy 'Punish a Muslim Day'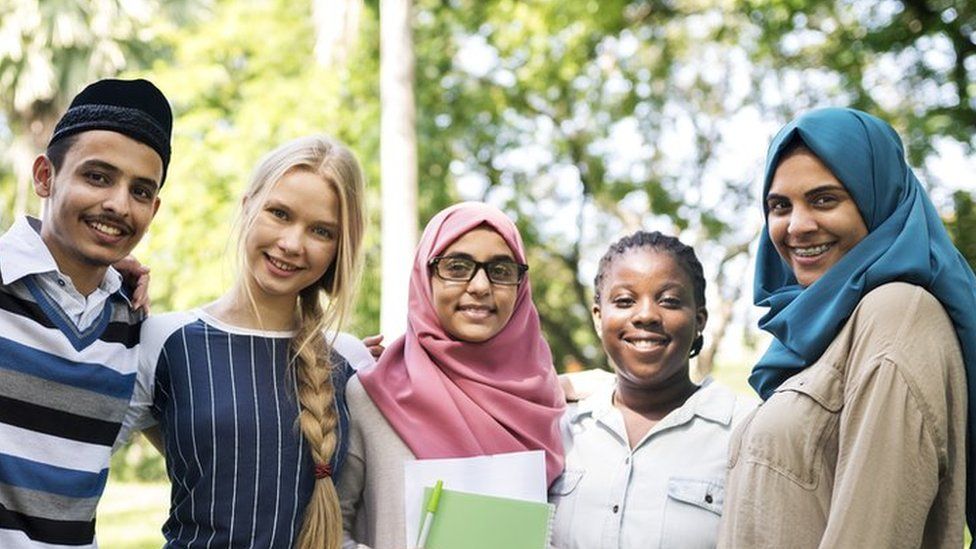 People online are expressing support for Muslims after letters were sent urging violence against them on 3 April, so-called "Punish a Muslim Day".
A police investigation has been taking place since letters and online images circulated in March advocating a points-based system for the performance of violent acts against Muslims. Four Labour MPs also received the letters.
Community leaders in the UK are encouraging Muslims not to change their behaviour because of scaremongering tactics.
#PunishAMuslimDay and counter-hashtag #LoveAMuslimDay, as well as #WeStandTogether, are trending with more than 42,000 tweets sent, many urging Muslims to ignore the threats.
In a statement, the Metropolitan Police said: "At this time there is no credible information to suggest there is any criminal activity that will take place. We will be encouraging local faith and community networks to take part in a '#WeStandTogether' campaign."
The organisation Tell Mama, which monitors anti-Muslim hate crime, told the BBC it had passed to the police evidence of about 20 cases of individuals who received letters referring to "Punish A Muslim Day".
"We believe that Muslim communities have reacted with tolerance," director Iman Atta said.
You might also be interested in:
The organisation also shared safety tips on Twitter and advised any victim of hate crime to report abuse.
#WeStandTogether: If extremists seek division, we rise above. If extremists cause harm, we rise above. If you face anti-Muslim hate, we rise to help. Speak to Tell MAMA in confidence.

Keep our safety tips in mind as you go about your day 👇 pic.twitter.com/QefyPWxU8a

— TellMAMAUK (@TellMamaUK) April 3, 2018
Founder of the forum She Speaks We Hear, Akeela Ahmed advised Muslims not to share false information online.
There has been much misinformation regarding the awful 'Punish a Muslim' letters. Please try to not share vlogs, posts or statuses that scaremonger or falsely attribute incidents to the letters. Police advise being vigilant but continuing your usual activities. #WeStandTogether

— Akeela Ahmed (@AkeelaAhmed) April 2, 2018
Muslim women advised their fellow hijabis to be extra vigilant, with some suggesting that they swap their headscarf for a beanie hat.
Tomorrow is April 3rd guys.. all Muslims be extra cautious. To my hijabi sisters, if you're out and about tomorrow maybe think about swapping your scarf for a beanie or something. We have to be extra careful. Remind your friends and family. Stay safe✌🏼

— Dinatokio (@dinatokio) April 2, 2018
Women wearing hijabs or burkas are considered particularly vulnerable to Islamaphobic attacks due to their visibility. Some said they would refrain from being in public unnecessarily.
Journalist Lina Serene wrote: "[I] didn't think I'd get anxious about #PunishAMuslimDay but I currently am. Thinking of all Muslims, especially visible Muslim women, across the UK who don't have the privilege of staying at home. Please be vigilant."
One woman on Twitter advised members of the public to remain alert to possible hate crime, suggesting "us other ladies might carry a pashmina-sized scarf in case someone has their hijab taken off them. Stay with the woman, get her to safety & call the cops."
However, other women responded that they would not alter their religious practice suggesting this amounts to "giving in to hate".
Asha Iqbal, founder of mental health organisation Generation Reform, said she would go about her business as usual, and she shared advice for witnesses of hate crime.
Some shared their anger at witnessing the fear felt by some members of the Muslim community.
Host of TV show Halal Kitchen, Ali Imdad, wrote that he was upset to see his mum praying for safety: "Hatred doesn't scare me. But my mum is sitting reading the Qur'an & praying for safety [...] She feels she has to pray to stay safe just for being a Muslim. When did we go back to the 1930s again?"
Meanwhile, in Manchester, one cafe owner, Manzoor Ali, pledged to hand out free tea, cake and biscuits to people passing his shop on what he is calling 'Banish Hate Day'.
By Georgina Rannard, UGC & Social News