Duke of Edinburgh to undergo hip surgery in hospital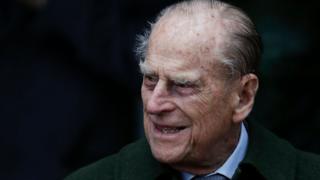 The Duke of Edinburgh is to have surgery on his hip under general anaesthetic at a London hospital.
Buckingham Palace said Prince Philip was admitted to the private King Edward VII's Hospital in Marylebone on Tuesday afternoon for the planned procedure.
The 96-year-old retired from royal duties last August.
Exact details of the duke's condition have not been issued but his absence at the Easter service at Windsor was said to have been because of a hip problem.
He also did not attend two other recent events at Windsor Castle - the Royal Maundy Service at St George's Chapel on 29 March and a parade on 22 March to mark Prince Andrew's appointment as Colonel of the Grenadier Guards.
A statement released by Buckingham Palace to announce the treatment said: "Further updates will be issued when appropriate."
The surgery comes ahead of a busy time for the royal family, with the Duchess of Cambridge due to give birth to her third child this month, and the wedding of Prince Harry and Meghan Markle in May.
The duke announced his retirement in May 2017, after decades of supporting the Queen, as well as attending events for his own charities and organisations.
A month later he was admitted to King Edward VII's Hospital as "a precautionary measure" following an infection arising from a pre-existing condition.
His final solo engagement was on 2 August last year, when he reviewed a parade of Royal Marines outside Buckingham Palace in his capacity as Captain General of the corps.
He has since appeared several times at engagements alongside the Queen and was seen with other members of the royal family at the Christmas Day service at Sandringham.
Prince Philip: Incapacity will be a torment
By BBC royal correspondent Jonny Dymond
When he first met the then-Princess Elizabeth, he is said to have showed off by leaping over the tennis court nets at Dartmouth Naval College.
His spin bowling was so good that the Australian cricketing legend Sir Don Bradman said he should play for England.
In the 1960s he was one of the top four polo players in Britain. When he gave up polo, he took up carriage driving.
And all the while he encouraged others to lead a sporting and active life, as president of the National Playing Fields Association, a patron of Outward Bound and through the establishment of the Duke of Edinburgh's Award scheme.
Much of that activity has come to an end as age has taken its toll. The Duke is 96. But in early March he was seen carriage driving at Windsor.
Incapacity will be a torment to a man so used to activity. His doctors will want him up and about as soon as possible after the operation, to kick-start the healing process. They will find it difficult to restrain him.
King Edward VII's Hospital was founded in 1899 and has treated other senior royals including the Queen, the Prince of Wales and the Duke of Cambridge.
Prince Philip has spent much of his life in good health, but was treated for a blocked coronary artery in 2011 and a bladder infection a year later.
In June 2013 he spent 11 nights at the London Clinic, another private hospital in central London, where he underwent exploratory abdominal surgery.
In May 2014, he had a "minor procedure" on his right hand, with the treatment carried out inside Buckingham Palace.
Analysis
By BBC health and science correspondent James Gallagher
Surgery at any stage of life carries risks.
But patients are not ruled out of surgery based on their age alone.
For patients like Prince Philip, overall fitness is a bigger factor than how old they are.
This will be a decision between patient and surgeon assessing the benefits and the risks of the planned procedure.
In general, frailty increases with age and does increase the risks of major surgery.
We do not know what type of hip operation Prince Philip is having.
Most hip replacement operations in the UK take place on patients between the ages of 60 and 80.
However, such operations do take place even later in life.
Back in 1995, the Queen Mother had a successful hip replacement at the age of 95.
Get news from the BBC in your inbox, each weekday morning