What are your rights in tackling burglars?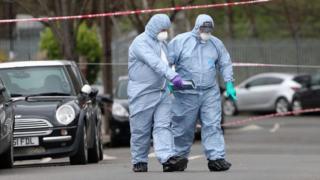 A pensioner has been told he will face no charges after being arrested on suspicion of murdering a suspected burglar. It has reignited the debate about a person's right to defend their home. So what are those rights?
According to the government, a person in England, Wales or Northern Ireland can use "reasonable force" to protect themselves or others if a crime is taking place in their home.
This means that in the "heat of the moment", they can use an object as a weapon or stop an intruder from escaping by, for example, tackling them to the ground.
What constitutes "reasonable force" is not defined by law but if a person did what they "honestly thought was necessary at the time" then there would be "strong evidence" they acted within the law.
But a person could be prosecuted if they carried on attacking an intruder after they are no longer in danger or if they planned to trap someone rather than involve the police.
The Crown Prosecution Service advises its prosecutors to ask if force was necessary and reasonable in the circumstances.
'Over the score'
The guidance also says there is no need for a person to actually be attacked before they may defend themselves.
In Scotland, although some of the terminology is different the principle is basically the same.
"It's about whether you went over the score," said Grazia Robertson, a Scottish criminal lawyer.
"The courts do take into account the heat of the moment and the fear the person may have felt."
There have been several high profile cases in which people have been jailed for attacking burglars.
In 1999, Norfolk farmer Tony Martin shot dead 16-year-old intruder Fred Barrass as the teenager fled. He was jailed for life for murder but appealed and had the verdict reduced to manslaughter, serving three years in jail.
In 2008, Buckinghamshire businessman Munir Hussain was jailed for 30 months after chasing and attacking with a cricket bat one of three intruders who had tied up his family. The intruder, Walid Saleem, received a lesser sentence than Hussain, who was convicted of grievous bodily harm. This was later reduced on appeal.
Both cases caused a national debate which in turn prompted the government in 2012 to offer better protection to those defending their homes.
"Grossly disproportionate" force remains against the law but the bar was set higher than the previous "proportionate" force test.
The new law was challenged in 2016 by the family of Denby Collins, a burglar who was left in a coma after being restrained by a householder in Gillingham, Kent.
His family argued the law contravened Article 2 of the European Convention of Human Rights which protects a person's right to life, but the High Court rejected their claim.
The judges said, however, that the law did not "give householders carte blanche in the degree of force they use against intruders in self-defence" and it was ultimately for a jury to decide if a "householder's action was reasonable".
---
Analysis: Straightforward law but complex cases
By BBC legal correspondent Clive Coleman
Any householder is allowed to use reasonable force in self-defence. But what is "reasonable"?
In 2013 the law was changed so that someone, confronted by a burglar, who genuinely fears for their safety or that of their family, and in the heat of the moment uses force that is reasonable in the circumstances - but which in the cold light of day seems disproportionate - will not be guilty of an offence. That may, for instance, include picking up and using a weapon.
The law doesn't expect you, in the heat of a traumatic event, to make fine judgements over the level of force. But it doesn't give householders carte blanche either. You will be prosecuted if you use what the law terms "grossly disproportionate" force.
So, laying a trap for a burglar and using extreme force, a calculated act of revenge, or using a gun on an unarmed intruder, could be deemed grossly disproportionate.
All cases turn on their facts, so each has to be carefully investigated to determine whether the force used was reasonable or grossly disproportionate.