British snowboarder suffocates in snow in French Alps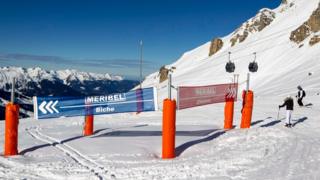 A British snowboarder has suffocated after falling into a snow-drift in the French Alps, authorities there say.
The 25-year-old man, who has not been named, was discovered buried head-first in an off-piste area near the Meribel ski resort in France on Wednesday.
He was uncovered after two skiers alerted emergency services to a snowboard sticking out of the snow about 20 metres (66ft) from the piste.
The Foreign Office said it was giving support to the dead man's family.
French rescuers said the man, who was a seasonal worker at the resort in south-eastern France, had suffered cardiac arrest when he was found.
An Alps Mountain Rescue spokesman said the man could have been buried for up to half an hour, adding: "He was buried up to his pelvis and the snow was very heavy, very compacted."
French authorities are investigating the incident and an inquest has been opened in the nearby town of Albertville.
Foreign Office staff are in contact with police in the UK and France, as well as a tour operator, about the incident, a spokesman said.
How dangerous is off-piste skiing?
Off-piste refers to any area not marked out and maintained for use by skiers.
These slopes are not groomed by snow ploughs, so rocks, precipices and cliffs may be hard to spot, especially in poor visibility.
Avalanches are a major risk as marked pistes are usually protected by controlled explosions and the use of snow ploughs.
Ski resorts do not have the same responsibilities for off-piste areas.
The incident follows the death of a British skier in an off-piste area of the Alpe d'Huez, who fell from a cliff near the French Alps resort in February.
Last January, British skiers Oscar Cassagneau-Francis and Rajen Mahendra, both 26, died after falling hundreds of metres in an off-piste area of the Chamonix-Mont-Blanc region.
During this winter season there have been many avalanches in the Alps, following very heavy snowfall.
French Interior Minister Gérard Collomb tweeted last month to urge caution to those taking part in winter sports, following a number of avalanches.
ANENA, France's National Association for the Study of Snow and Avalanches, has recorded more than 30 deaths since the beginning of the ski season in November.