Cliff Richard privacy case: Police felt 'forced' into revealing raid to BBC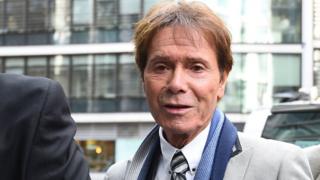 Police felt "forced" into giving the BBC advanced notice of their 2014 raid on Sir Cliff Richard's home, a former detective has told the High Court.
Ex-Det Supt Matthew Fenwick said South Yorkshire Police had wanted to delay a story about a historical sex abuse investigation into the singer until they could search his Berkshire flat.
Sir Cliff, who is suing the BBC over privacy, was never charged.
The BBC says its coverage was of "legitimate public interest".
Lawyers for the singer, who had always denied wrongdoing, said the BBC took the decision to name him in its August 2014 report of the raid, causing "profound and long-lasting damage".
South Yorkshire Police has settled its own case with Sir Cliff by paying him £400,000 and argues that the BBC should pay a share of this because its actions were "far more causative of the damage suffered".
'A concession'
The court has heard BBC reporter Dan Johnson received a tip-off that police were looking into a claim Sir Cliff sexually assaulted a boy under the age of 16 in Sheffield in 1985.
Giving evidence on the third day of the case, Mr Fenwick talked about a meeting he had with the journalist in July 2014.
Mr Fenwick said he did not want a story about Sir Cliff to be run at that stage of the investigation because it could compromise their ongoing inquiry.
He added: "In particular publishing a story could cause problems with a search warrant which we were not ready to do yet."
Mr Fenwick recalled that the BBC journalist referred to Sir Cliff as a "celebrity paedo". Mr Fenwick said that, from those words, it was clear Mr Johnson "clearly knew" the nature of the allegation being investigated.
"He explained to us that he was ready to publish an exclusive story about the investigation and wanted a comment from us," Mr Fenwick told the court.
He said: "At the back of my mind I was thinking that it would not only compromise the investigation but could also compromise Sir Cliff Richard by exposing him to allegations, potentially giving him the opportunity to dispose of evidence."
He told the court Mr Johnson "said he could and he would [run the story] and we came to an arrangement that he wouldn't publish it then but that we would notify him when we were ready to take further action".
The officer said the BBC was subsequently given information about the search the following month as a "concession".
Asked by the BBC's barrister, Gavin Millar, whether his case was that Mr Johnson forced police to do a deal, Mr Fenwick said it was, adding: "I felt that we didn't have many options - there was no option, other than to co-operate with him."
'Rights respected'
Mr Fenwick also said he had been "angry" at a BBC News website story containing an "untrue" suggestion that the broadcaster's presence at the raid was a deliberate attempt by the force to "maximise publicity for the investigation".
He said: "I made a number of telephone calls to Dan Johnson because I wanted him to ensure that it would be removed".
The BBC television report of the raid featured shots taken from a helicopter showing officers inside Sir Cliff's home in Sunningdale.
Describing seeing the coverage, Sir Cliff broke down in the witness box on Friday, saying he felt "smeared" by the BBC.
In Sir Cliff's written statement, which has been made available online by his lawyers Simkins, he said: "It was shocking and upsetting."
He added: "My health suffered, both mentally and physically."
He is suing the BBC for the misuse of private information and breaking data protection rules.
Lawyers representing the BBC maintain it had a duty to report information about an investigation into a serious criminal offence.
They say its journalists had respected Sir Cliff's rights as a "suspect" and the "presumption of innocence".