No girls, no entry: Is it OK for bars to turn away groups of men?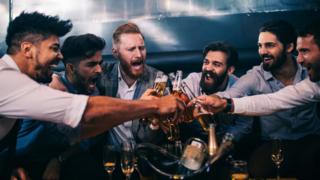 Last month, two gay men were refused entry to a bar in Leeds, with bouncers saying it was for "mixed couples only". Hundreds of people contacted the BBC to say it was normal for groups of men - gay or straight - to be turned away from bars. So is it fair - or legal?
It was Easter weekend, and Matt Dalton was looking forward to a night out in Leeds with four friends.
Matt, 20, lives in New Farnley, just outside the city. His friends were back from university. But the night didn't exactly start with a bang.
At 11pm, they got a taxi into the city centre and tried getting into a bar. They weren't drunk, they weren't rowdy, and - says Matt - "we don't look the roughest".
Despite that, they weren't allowed in. Why? Because they were men.
"The bouncer just said: 'Not tonight lads,'" says Matt, an IT apprentice. "We were like: 'What?' And he said: 'There's too many lads. You're not coming in.'"
They tried a second bar, and were told the same. A third bar repeated the message: no girls, no entry. Matt was disappointed, but not surprised.
"We are lucky if we go out in town and don't get turned away from somewhere," says Matt. So he is used to being barred from bars - but he doesn't think it's right.
"It's ridiculous," he says. "If you look at the definition of discrimination, it's treating someone differently on the basis of age, sex, race, or whatever.
"In the past, it's been allowed. But it's 2018. Discrimination is taken extremely seriously. I think it's time to question why this is happening."
At Christmas, Rick Mclean, 30, took four of his friends from London to his home city of Leeds.
They went to the pub, went to the football, then headed to the city centre. The first bar they tried, they were turned away: "No groups of lads tonight."
They tried a second bar and were also rejected. Eventually, after trying a third bar, their night out was allowed to continue.
"It is a form of discrimination," says Rick. "It's a strong word to use, but what difference does it make if you go in with girls? If someone's going to cause trouble, they're going to cause trouble."
Although Matt and Rick had difficulties in Leeds, men from across Britain contacted the BBC to say they faced the same problem.
Pieter Brock is from the Netherlands but studies in Birmingham. He and his male friends have been turned away from bars "too many times to remember".
"It has happened if I'm just with one male mate - and it's even worse if there are three or four guys," he says. "I never experienced this in the Netherlands, so I don't understand why it's so prevalent here."
Paul Ford, 37 and from Bradford, has also been turned away from bars in men-only groups. He, though, has a different perspective - he has worked as a bouncer.
Paul is a sales executive, but worked as a bouncer in London 10 years ago. He admits that doormen - himself included - would often turn away groups of men, but not women.
"At the end of the day, you don't want to get involved in trouble," he says.
"If you work on the doors, there are not many of you. I've had it before - when two large groups of lads start fighting, there's not much you can do if they turn on you.
"You've got to use judgement working on the door. Sometimes it's right, sometimes it's wrong. And sometimes it is just too busy."
Peter Milmine, also 37, spent 15 years on the doors in Bristol - from working solo in pubs, to running a team of 25 security staff in a nightclub.
He didn't turn away customers because of their gender - "I would rather have a club full of nice men who won't fight, than a mixed group who will" - but admits it does happen on a "nightly basis".
"Quite often, groups of four or more would be in line for getting turned away, just because they're a group of guys," he says.
Peter says bouncers are often enforcing orders from the club's owners, who prefer an equal mix of men and women. He thinks more training would help - but he does have some sympathy for bouncers.
"When you're working on the front door, you could have 1,000 people come by," he says. "You have a very small window of opportunity to make a judgement on whether that person is suitable."
Mark Nuttall, from Sheffield, has been a doorman "for many years". He says bouncers sometimes stop groups of men if there's a chance of football-related violence.
"I can see why it might be regarded as discriminatory, and it's a clumsy and deeply imperfect tool," he says. "But it's effective at keeping anti-social behaviour to a minimum."
So it might be effective. But is it legal?
The Equality Act of 2010, which applies in England, Scotland, and Wales, made it illegal to discriminate against someone for a range of reasons - including their age, race, sexuality, or gender.
The act protects consumers, as well as workers and other groups. So are bars breaking the law?
"Theoretically, if the sole reason for turning [a group] away is their gender, then you could potentially mount a claim," says Maria Chadwick, discrimination department manager at Stephensons law firm.
However, there is a possible defence for bar owners and their door staff: that their actions did not amount to discrimination but were instead "a proportionate means of achieving a legitimate aim".
"Say they had a bar with a capacity of 200," says Ms Chadwick. "If 180 of the people in the bar are men, and they've got three security guards, there's potential for them to argue that they [the doormen] may be outnumbered.
"That could put the health and safety of the staff, and the other patrons, at risk."
But the "legitimate aim" defence is not supposed to be used when direct discrimination based on gender has taken place. So are bars that turn away men - because of their gender alone - on shaky legal ground?
"Yes they are - because at face value they're essentially discriminating against males without just cause," says Ms Chadwick.
For now, though, Matt Dalton and his friends are unlikely to get into legal argument with the bouncers in Leeds.
"They won't like a load of uni students telling them they're wrong," he says. "There's nothing you can do, really - apart from put your head down and go somewhere else."