Russian spy: Skripal poison case focus for watchdog meeting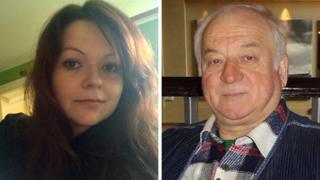 The poisoning of ex-spy Sergei Skripal will be discussed at a meeting of the global chemical weapons watchdog later.
A report by the Organisation for the Prohibition of Chemical Weapons on the toxic substance used in Salisbury confirmed the UK's analysis of the type of nerve agent involved.
The UK says Russia was behind the attack, but Moscow denies involvement.
The meeting in the Netherlands will give Russia and the UK a platform to build their international support.
OPCW's summary report, released earlier this month, did not name the nerve agent as Novichok, but said it agreed with the UK's findings on its identity.
It does identify the toxic chemical by its complex formula, but only in the classified report that has not been made public.
Russian and British ambassadors in the Netherlands are due to attend the OPCW meeting.
BBC News foreign correspondent Anna Holligan said at the UK will probably propose a resolution asking for the report's findings to be adopted.
The UK has already called for a UN Security Council meeting on the OPCW report, which could be held this week.
"But there's a sense, after Salisbury, and with heightened tensions in Syria, neither side has much appetite for an escalation," our correspondent added.
The OPCW does not have the power to apply sanctions or assign blame.
It comes after the Department for Environment, Food and Rural Affairs (Defra) said the nerve agent used in Salisbury was delivered "in a liquid form".
Only "a very small amount" was used on Mr Skripal and his daughter Yulia, who were found unconscious on a bench on 4 March.
A massive clean-up operation is beginning to decontaminate nine sites in the city - it will take several months and cost millions of pounds.
Mr Skripal, 66, is said to be recovering slowly but is expected to be discharged eventually. His 33-year-old daughter left hospital earlier this month.
Defra said the highest concentration of military grade Novichok nerve agent was found at Mr Skripal's house, but eight other sites are known, or thought, to be contaminated.
They include ambulance stations and a police car compound, as well as a Zizzi restaurant and the Mill pub, where the Skripals spent time on the day they fell ill.
The nerve agent does not evaporate or disappear over time, experts said, and intense cleaning with caustic chemicals is required to get rid of it.
The Skripals' poisoning has triggered a diplomatic crisis between Russia and the West, with more than 20 countries expelling Russian envoys in solidarity with the UK.