Real ale fans won't represent all drinkers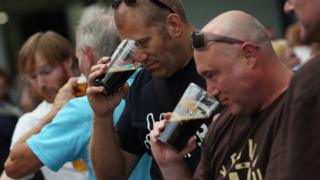 Campaign for Real Ale (Camra) members have narrowly rejected plans to widen the organisation's remit to be the voice of all beer, cider and perry drinkers.
The proposal, which could have seen Camra representing all beer drinkers - not just real ale - will not go ahead.
The organisation has however voted to target its "education and training" at all types of drinker.
Camra's chairman said the membership had "made its views clear".
Almost 18,000 members voted online and at Camra's AGM in Coventry on Saturday.
Five other new objectives were voted through, after Camra's leadership recommended changes following a "root-and-branch review".
They included:
To play a leading role in the provision of information, education, and training to all those with an interest in beer, cider, and perry of any type
To promote and protect pubs and clubs as social centres as part of the UK's cultural heritage
To increase recognition of the benefits of responsible, moderate social drinking.
But the motion "to act as the voice and represent the interests of all pub goers and beer, cider and perry drinkers" failed to pass after receiving 72% of the votes. It needed the support of 75% of voting members to succeed.
Real ale usually comes from a hand pump and is conditioned in a cask, giving it a fuller flavour than other beers, say supporters.
National pub campaigner, and former Liberal Democrat MP, Greg Mulholland was one of those who opposed the changes.
He wrote on his Facebook page: "If the revitalisation plans go through, Camra will not be a campaign for anything but a vague 'we like any 'nice' beer and cider club'."
The vote followed Camra's largest ever consultation of its members.
More than 25,000 members filled in surveys and attended consultation meetings across the country.
Camra chairman Colin Valentine said: "We were determined to give every single member the right to have the final say on the recommendations by voting on the changes to the Articles of Association. The membership has taken advantage of that right and made its views clear.
"We're delighted that all but one of the Special Resolutions was approved, which shows the majority of members agreed with the consultation findings that Camra needs to change to remain a relevant and effective campaigning organisation."
He added: "We need to do all we can to reassure all members that our core campaigning objectives remain focussed on real ale, cider and perry as ever."