Security services 'to get more power to stop attacks'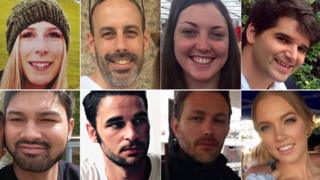 Police and security services are to get more powers and resources to stop terror attacks at an earlier stage, according to the Sunday Times.
It says the new government anti-terror strategy proposes sharing information about suspects more widely, according to a leaked draft which it has seen.
It follows a review of last year's attacks in Manchester and London.
The Home Office would not comment on the leaked report but has promised a "comprehensive" strategy.
Some of the attackers involved in last year's terror attacks at Westminster, London Bridge and Manchester, which saw 35 people killed, had been known to the police and intelligence services.
That sparked calls for changes to be made to the UK's counter-terrorism laws.
The intelligence agency MI5 has information on more than 23,000 "subjects of interest", but only around 3,000 are under active investigation.
The Sunday Times reports that the new strategy will enable counter-terrorism investigators to warn other agencies - government departments, councils, devolved administrations and local police forces - about suspects on their radar before they are considered dangerous enough to be placed under MI5 surveillance.
'Change of approach'
It is claimed the plan, due to be published in the next few weeks, also calls for more focus on "communities where the threat from terrorism and radicalisation is highest".
It would also introduce longer prison terms for terror offences, as well as more intensive monitoring when people are released from jail.
A "change of approach" is required, according to the leaked report, as the threat of terrorism is "higher" since the last counter-terrorism strategy was published in 2011.
Last year Home Secretary Amber Rudd set out her intention to increase the maximum sentence for people who repeatedly view terrorist content online to 15 years.
A Home Office spokeswoman said: "The updated counter-terrorism strategy, which is still being finalised, will be a comprehensive and cross-cutting response to the evolving threat from domestic and international terrorism.
"The home secretary has made crystal clear her determination to leave no safe space for terrorists to act or recruit and to keep our families, communities and country safe."