Royal baby: Tourists and fanatics celebrate outside hospital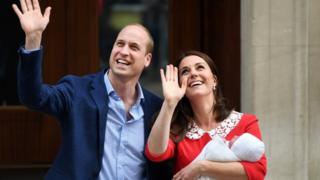 The doors opened and the Duchess of Cambridge stepped out accompanied by her husband, new son in her arms, to be greeted by a cacophony of cheers, applause and delighted "aaaahs".
People stood on their toes, strained their necks and held their camera phones high above their head hoping to get the best view of the latest royal arrival.
Some had been waiting a few hours, others had been waiting more than two weeks but they were all united in their enthusiasm in welcoming the new royal baby.
The news arrived that the Duchess of Cambridge was in the third stage of labour on Monday morning and almost immediately a combination of royal fans, curious tourists and journalists from around the world descended on St Mary's Hospital in Paddington, London.
Diehards like John Loughrey, 63 - clad in Union Jack hat and T-shirt - had been there for 15 days.
"I was here for eight days waiting for George and two weeks for Charlotte so I'm glad today we've broken our record," he said
"This is my temporary home. The hospital have been so good to us.
"They brought us porridge for breakfast, let us use the showers and on the Queen's birthday we got champagne."
Sharon McEwan from London has been coming to the hospital every day for over a fortnight.
"This is a great day. I'm so excited. It's fun out here, we don't get bored. The guys sing. They sing songs to the royals," she said.
"I love the royals, I read about them growing up in Jamaica.
"My wish was that I could one day come to England to see the Queen."
Hospital workers like Jade Carter came out during their breaks hoping to catch a glimpse of the new baby.
"I only meant to come out for 15 minutes but I've been here for three quarters of an hour," she said.
Others, such as American tourist Adam Sharon, popped by before heading to the airport.
"This is a historical event," he said. "For an American it's very exciting. I'm fascinated with the monarchy.
"American patriotism scares me but I find British patriotism charming. It is a beautiful expression of culture.
"Just being here, the atmosphere seeps in. You become a part of it."
The wait was long but the crowd kept themselves busy discussing possible baby names, getting selfies with a man dressed as a town crier and taking advantage of the free pizza, burritos and bottles of water handed out by companies.
Others debated among themselves whether they could afford to miss their trains or cancel their Harry Potter theatre tickets in order to get the chance of seeing the royal newborn.
As the wait went on, waves of anticipation rippled through the throng.
Every smart car that pulled up outside the Lindo Wing was greeted with expectant whoops.
Then, just after 13:00 BST champagne corks popped and cheers rang out as the news the duchess had given birth to a boy ran through the crowd.
Those who had been camped out for days led the chants: "It's a boy. It's a boy."
Others began singing: "Congratulations, and celebrations. It's a boy born on St George's Day."
"What a lovely day," said Maria from London when it was all over.
"I think we might be mad to have waited all this time but I'm so glad I was here."