Skripal poisoning: Salisbury clean-up begins in bench area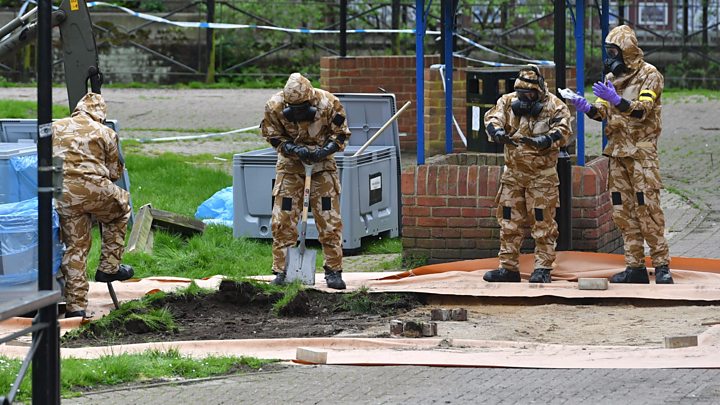 The clean-up after the poisoning of an ex-Russian spy and his daughter has begun, starting with the area where they were found on a bench.
Nine sites around Salisbury are to be decontaminated after a Novichok nerve agent was used on Sergei Skripal and his daughter Yulia.
The pair were found slumped on a bench in the Maltings area on 4 March.
Mr Skripal, aged 66, remains in hospital but his daughter, 33, was discharged on 9 April.
The British government says a military-grade Novichok nerve agent of a type developed by Russia was used in the attack, although Moscow denies any involvement.
A spokesman for Wiltshire Council said: "Specialist teams will carry out thorough testing to ensure that any residual nerve agent used in the attack is chemically cleaned, or removed and safely destroyed."
The work is being planned and overseen by the Department for Environment, Food and Rural Affairs based on expert advice and with government and military support.
The first sites being decontaminated are the Maltings area, where the bench was, ambulance stations and specific areas within Bourne Hill.
The Mill pub and Zizzi's restaurant where the Skripals had been earlier in the day and where traces of Novichok were also found will follow, with Mr Skripal's house the last place to be decontaminated.
The council spokesman said: "The work may take some months to complete.
"We will do everything we can to minimise disruption and avoid inconvenience for people living and working in the city.
"Outside of the areas that have been cordoned off, Salisbury is safe for residents and visitors."