Reality Check: How many UK statues are of women?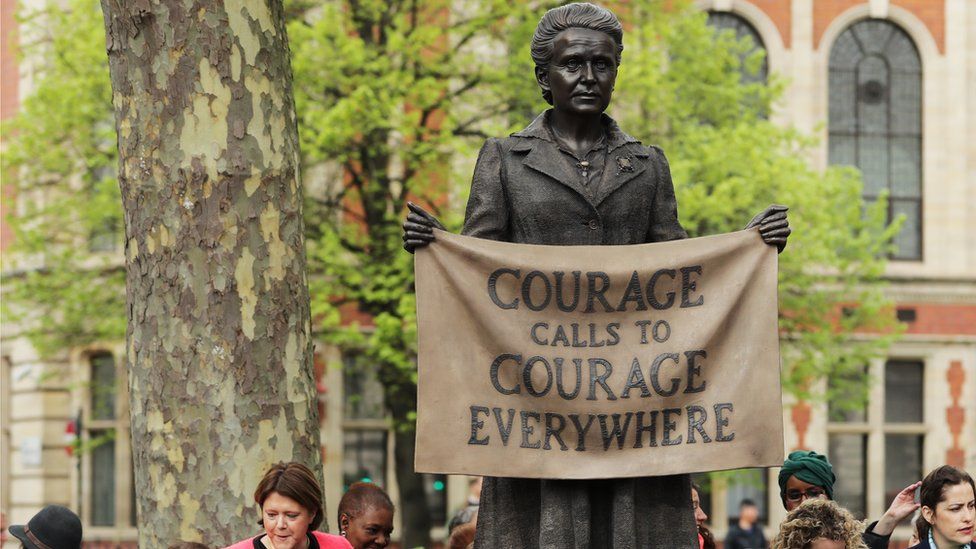 Millicent Fawcett campaigned for women's right to vote, and now she has a statue in Parliament Square memorialising her and her achievements. But the suffragist's sisters in stone are more likely to be nymphs than intellectuals.
The Public Monuments and Sculpture Association (PMSA) is a volunteer-run charity which has been recording public sculpture across the UK for three decades, although its database is not an exhaustive list of every statue in the country.
Of the 828 statues it recorded, 174 of them were female - around one in five.
But that doesn't tell the whole story.
Looking just at named women rather than nameless female figures whittles the figure down to 80.
In contrast, out of 534 statues of men, 422 of them are named.
Taking Headless Woman (Nymph), Woman Taking off Dress or any of four caryatids out of the equation, even among the 80 female figures with names 15 are allegorical, mythical or otherwise fictional.
And 38 of them are royal. Queen Victoria is the woman most commonly memorialised.
In total, there were 66 allegorical or fictional female statues compared with 16 fictional males.
And these fictional men were more likely to be soldiers on war memorials while many female figures were nudes and nymphs.
There were 65 male politicians recorded by the PMSA in public spaces around the UK, and zero female politicians.
Movement in the right direction?
There were other statuary depictions of women alongside men, but almost all of them are allegorical or generic images, rather than honouring a specific woman for her achievements.
As the new statue of Millicent Fawcett suggests, there is some movement in the right direction.
A PMSA spokesperson said: "It is worth taking account of the fact that over the past couple of years, there have been significantly more statues of women created, many of which do not yet feature in our database.
"There are currently over 300 statues and memorials in Westminster. In 2005, there were 163 figurative sculptures in central London, which is likely to be closer to 300 now."
The charity plans to produce an accurate statistic for the actual number of statues of women in the UK by 2020.
Another way of honouring the contribution made by individuals to society is English Heritage's London Blue Plaques Scheme.
That also shows a gender imbalance with just 127 of the 931 plaques honouring women.
Since the scheme is based on public nominations, there is a greater opportunity to influence who gets rewarded and the charity has been keen to do this.
In 2016, English Heritage launched an appeal calling for more nominations of notable women from history. They note that since then, women have made up just over 50% of the blue plaques shortlisted by the panel.