Cliff Richard case: BBC had 'strong reasons' to name singer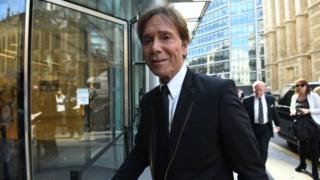 The BBC's director of news and current affairs has said there were "strong reasons" to name Sir Cliff Richard during a police inquiry into him.
Fran Unsworth told the High Court that while the story would cause "distress" to Sir Cliff, it was "in the public interest."
Sir Cliff is suing the BBC for naming him and broadcasting helicopter footage of police searching his home in 2014.
He says broadcasting the images was a "very serious invasion" of privacy.
Sir Cliff, 77, who denied an historic sexual assault allegation, was not arrested or charged as the result of the South Yorkshire Police investigation.
'Indelible stain'
Giving evidence on Wednesday, Ms Unsworth - who was then deputy director of BBC News - told Mr Justice Mann: "I was aware it would cause serious distress to Sir Cliff, but I had to weigh up the public interest consideration."
Sir Cliff's barrister, Justin Rushbrooke QC, asked about the consideration of the "indelible stain" such an allegation would leave on Sir Cliff's character.
"It certainly occurred (to me) this was a fairly momentous thing we were doing with a high profile person concerned, but there were strong reasons the BBC should do this," Ms Unsworth replied.
She added that there were "strong public interest arguments" in naming suspects who were part of a police investigation.
She told the court that defamation was the "most significant legal issue".
"We were concerned about privacy impact, but I thought that was an editorial matter as opposed to a legal matter," she added.
Asked whether helicopter footage showing the inside of Sir Cliff's home was intrusive, Ms Unsworth said that Sir Cliff was not in the property and that "shots were of policemen and quite blurred".
Ms Unsworth did not accept it was disproportionately intrusive, adding: "It would be impossible to broadcast it without it being an enormous story. "
She did, however, say use of live footage "was a mistake".
She told Judge Mann the justification of using a helicopter was "the inability to record it pictorially effectively any other way".
Ms Unsworth said it was the first time the BBC had named an individual before arrest in connection with a minor.
"We understood he would have been arrested if at the property," she added.
'Worth showing public'
Questioned on the BBC's decision to report the investigation, Ms Unsworth said: "We had firm information given to us by South Yorkshire Police...
"My instincts tell me that had it emerged that the BBC had chosen to ignore that story in full knowledge of it, the public audiences would have had questions about our role... it would have looked potentially as though we were not covering this story because Sir Cliff was a high profile individual."
She added: "I thought it surprising South Yorkshire Police had given this level of access and I thought that was worth showing the public."
Ms Unsworth said the BBC did receive criticism for naming Sir Cliff after the coverage.
Judge Mann also heard from another witness, Joanne Beattie, a former press officer for South Yorkshire Police.
She confirmed she rang BBC News reporter Dan Johnson the day before the search, to tell him it was being carried out the following morning in Berkshire.
Sir Cliff has said the coverage "smeared" his name. He is suing the BBC over the misuse of private information and breaking data protection rules.
The BBC disputes his allegations and says the BBC report on the police inquiry was in the public interest.
In 2014 South Yorkshire Police searched Sir Cliff's flat in Sunningdale, Berkshire while investigating an allegation the singer sexually assaulted a boy under the age of 16 in Sheffield in 1985.
In June 2016 it was announced he would not face any charges.
South Yorkshire Police has settled its own case with Sir Cliff by paying him £400,000 and argues that the BBC should pay a share of this because its actions were "far more causative of the damage suffered".
The case continues on Thursday.