Trains could soon run 24 hours a day across network - rail boss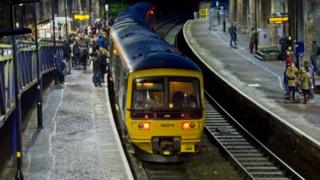 More trains could be running around the clock in the "not-too-distant future", the boss of Network Rail has said.
Mark Carne told the Times: "If you have a 24-hour Tube, it is not going to be long before people want 24-hour availability of rail systems."
Five Tube lines run a 24-hour weekend service and a few rail services already offer round-the-clock services.
A Network Rail spokeswoman said no new requests had been made by rail firms for 24-hour trains.
Currently services run through the night on Thameslink's London Victoria-Gatwick route and Transpennine Express's York-Manchester Airport line and at the weekend on the East London line.
Mr Carne - who will be stepping down as chief executive of Network Rail in the summer - said the firm was looking at ways to prepare for more around-the-clock services.
"I am anticipating that my customers - the train operating companies - will come to me in the not-too-distant future and tell me they want to run 24-hour trains," he said.
"And I have got to be prepared for that and that's why we're thinking today about what that would look like."
Network Rail is a public sector company responsible for the operation and maintenance of railway infrastructure - including tracks and stations - in England, Scotland and Wales.
A spokesman for the Rail Delivery Group, the representative body for railway companies, said: "Train companies will consider timetable changes where there is demand, where it will boost night-time economies and improve transport interchanges.
"A balance must be struck, though, between ensuring reliable infrastructure, which will require regular maintenance - usually done at night - and meeting the needs of customers outside traditional hours."
Former transport secretary Lord Adonis was critical of Mr Carne's comments, saying Network Rail "can't even run a half decent service in the daylight hours".
Some on Twitter agreed with the Labour peer's sentiment.
However, others on social media welcomed Mr Carne's comments.
Last month a report by MPs accused Network Rail - as well as the Department for Transport and rail firm Govia Thameslink - of "a catalogue of failures" that has caused "misery" for passengers.
It said UK passengers were paying for a "broken" rail franchising model.